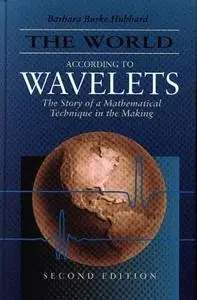 Barbara Burke Hubbard, "The World According to Wavelets: The Story of a Mathematical Technique in the Making"
AK Peters, Ltd. | ISBN 1568810474 | January 20, 1997 | DJVU | 264 Pages | 14.4 MB
Describes the more recent, meteoric rise of wavelet analysis and its many practical applications. Includes the new medical and genetic applications such as mammography, heart disease, and fingerprints.
From comments in Amazon: "I am a math professor,– and I often wondered if it wouldn't be possible to get some essential math ideas accross to almost anyone, –and with fewer equations. Ideas can be burried in symbolism;– not always! But it does happen. Many of my colleagues tell me that if it were possible, then it would be done. The author of this lovely little book didn't take math courses (she says!). Professional mathematicians would most likely agree with me that she (the author) did in fact communicate the essential ideas behind wavelets (and did it well!);- and so she must have understood them!! Perhaps, anyone who really wants to, can penetrate a specialized math discipline;– I would guess. Perhaps it is not even hard!? At least this book proves that it is not impossible to communicate the beauty of math;–and its uses. Take a look at the book, and judge for yourself! It is fun too!"
Download:
MD5: 34dfdf4bac7a148fa70f4550f2220e5e
p.s. This cover is from the 2nd edition.