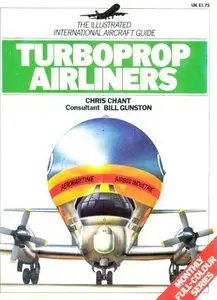 Chris Chant - Turboprop Airliners
MacDonald Phoebus | 1980 | ISBN: N/A | English | 67 pages | PDF | 62.26 MB
The Illustrated International Aircraft Guide 9
The turboprop engine, which was developed at the close of World War II as a powerplant for high performance fighters, was soon to become the standard engine for many commercial long-range airliners. This book covers the early experimental types in the 1940s, the classic airliners of the 50s like the Britannia and Viscount and the modern executive machines. It also features aircraft which have prolonged their flying life with the installation of turboprop engines. Today, one of the major attractions of the turboprop is that it has a low running cost which, with increased fuel prices, makes it popular with short-range freight and passenger operators. The Aero Spacelines Guppy is the ultimate expression of the turboprop freighter since, with its cavernous hold, it can carry whol e sections of aircraft fuselages. Turboprop Airliners is part of a series of titles which combine to give a complete history of aviation.