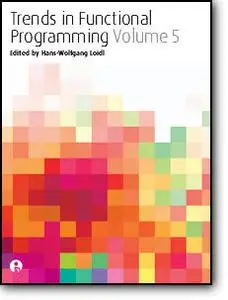 Hans-Wolfgang Loidl, «Trends in Functional Programming: Volume 5»
Intellect | ISBN 1841501441 | 2006 Year | PDF | 1,25 Mb | 144 Pages
Covers all aspects of functional programming, both theoretical and practical, to provide a coherent overview of research's most recent developments. This book features: language design, proof and transformation, semantics and models, implementation, applications, type systems, parallelismand distribution, performance modelling and profiling, education, real time and reactive programming, programming methodologies. The volume brings together many leading practitioners and contextualises their contributions through a substantial introduction, appropriate overviews and summaries, and a rich bibliography and index.
Password
:
www.AvaxHome.ru
Download from Rapidshare
Бонус | Bonus
My other uploaded eBooks (1900+) - links and descriptions
Другие книги, закаченные мной (более 1900) - ссылки и библиографические данные
New!
version 6 (May 03 2006) [1,1 Mb] | Format: txt
Download eBooks list from Mytempdir
Download eBooks list from Rapidshare
If you need a book from the list but the link doesn't work
anymore, send me a message. Also write me about dead links in my other posts, please.
Если Вам необходима книга из списка, а ссылка на нее не работает, то отправьте мне сообщение. Также пожалуйста отправляйте мне сообщения о нерабочих ссылках в моих постах.