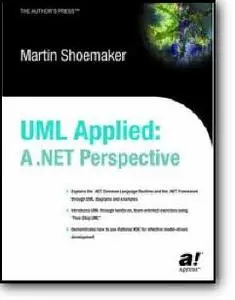 Martin L. Shoemaker, «UML Applied: A .NET Perspective»
Apress | ISBN 1590590872 | 2004 Year | CHM | 13,15 Mb | 560 Pages
UML Applied: A .NET Perspective is the first book to examine the two worlds of Unified Modeling Language (UML) and .NET concurrently. The core of this book provides a set of proven, hands-on, team-oriented exercises that will have you solving real-world problems with UML faster than when using any other approach—often in under a day. Author Martin Shoemaker also demonstrates how to use Rational XDE for effective model-driven development.