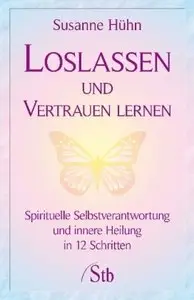 Susanne Hühn - Loslassen und Vertrauen lernen
Genre: Lebenshilfe, Ratgeber | Time: 01:40:55 | Publisher: Schirner Verlag | ISBN: 3897672588 | 15. Februar 2006
Language: Deutsch | Audiobook in MP3 / 112 kbps | 83.29 MB
Beschreibung:
Das Buch beschreibt einen spirituellen Entwicklungs- und Genesungsweg, der eine echte, tiefgreifende Verhaltensänderung zum Ziel hat, und zwar unabhängig davon, ob man alle Ursachen für das störende Verhaltensmuster kennt oder nicht - die Ursachen zu kennen reicht noch längst nicht aus, um das Verhalten tatsächlich zu verändern. Dieser Weg besteht aus zwölf Schritten, die aufeinander aufbauen und in der Behandlung von Suchterkrankungen lange erprobt sind (die meisten genesenden Alkoholiker, Eßsüchtigen und Co-Abhängigen halten sich an dieses Programm, viele Suchtkliniken arbeiten damit, spirituelle Autoren wie z. B. Melody Beatty (Mut zur Unabhängigkeit u. a.) und Julia Cameron (Der Weg des Künstlers) ebenfalls). Die 12 Schritte bilden die Brücke zwischen dem eigenen Leben und einer gesunden spirituellen Kraft, die jeder für sich definiert, also nicht religionsabhängig ist. Durch den Kontakt mit den lebendigen und ges unden Teilen in sich bekommt der Leser den Mut, sich den nicht ganz so gesunden, fehlgeleiteten Teilen in sich zu stellen und ihnen Ausdruck zu verleihen, so daß er sie besser verstehen und letztlich loslassen kann. Er lernt, seine Aufmerksamkeit auf das zu richten, was er verwirklichen will, und das sein zu lassen, was er nicht mehr leben möchte. Durch Übungen wie Schreiben, Meditieren und Sich-Mitteilen erreicht er schließlich eine echte Bewußtseinsänderung.
Download Susanne Hühn - Loslassen und Vertrauen lernen:
filesonic.com
Pass: avaxhome.ws
Mehr Audiobucher von mir findet Ihr in
My Blog
If you'll find that my links are dead please let me know through the Private Messages.
Please DO NOT MIRROR