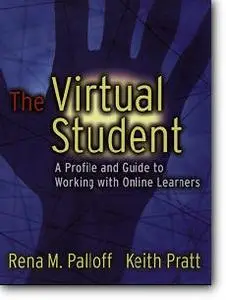 Rena M. Palloff, Keith Pratt, «The Virtual Student: A Profile and Guide to Working with Online Learners»
Jossey-Bass | ISBN 0787964743 | 2003 Year | PDF | 1,52 Mb | 224 Pages
There is an ongoing debate in the academic world about who is attracted to Tonline learning.It has been assumed that it is predominantly adult learners who take online courses because online learning allows them to continue working full time and attend to their family obligations through the delivery of anytime,anywhere education.The "typical"online student is generally described as being over twenty-five years of age,employed,a caregiver,with some higher education already attained,and equally likely to be either male or female (Gilbert, 2001,p.74).Online students may be nontraditional undergraduate,graduate,or continuing education students.
However, recent statistics published by the National Center for Education Statistics (2002) indicate that interest and enrollment in online courses spans all age groups.As of December 31,1999,65 percent of those age eighteen or younger had enrolled in an online course, indicating the increasing popularity of virtual high school courses.Fifty-seven percent of those considered to be traditional undergraduates, ages nineteen to twenty-three, had enrolled. Those ages twentyfour to twenty-nine enrolled at a rate of 56 percent, and those thirty and older enrolled at a rate of 63 percent. The statistics do agree that fairly equal numbers of men and women are enrolling, and with the exception of American Indians and Alaska Natives (of whom only 45 percent enroll), roughly 60 percent of all races enroll.
Password
:
www.AvaxHome.ru
Download from Rapidshare
Бонус | Bonus
My other uploaded eBooks (1400+) - links and descriptions
Другие книги, закаченные мной (более 1400) - ссылки и библиографические данные
version 5 (April 07 2006)
Download eBooks list from Mytempdir
Download eBooks list from Rapidshare
Please about the dead Rapidshare links send me the message
Пожалуйста отправляйте мне сообщение об убитых ссылках на Рапидшаре