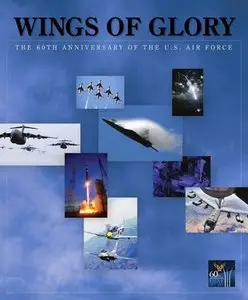 Wings of Glory: The 60th Anniversary of the U.S. Air Force
USAF | 2007 | ISBN: N/A | English | 148 pages | PDF | 63.4 MB
Since its creation as a separate service on Sept. 18, 1947, the U.S. Air Force has protected the nation's interests across the globe. Today, the same Air Force that fought actively abroad against communism and maintained a constant nuclear deterrent alert throughout the Cold War, that destroyed or set to flight the entire Iraqi Air Force, now flies unmanned aerial vehicles over Southwest Asia, takes out terrorist leaders with precision munitions, and leads the way in space and cyberspace. As the world changes, so too does the Air Force, and today its leaders and rank and file personnel are working every day to mold it into a force that can take on not only the challenges and threats of today but those that are still over the horizon, working to be the best that fly in the air, in space, and in cyberspace.