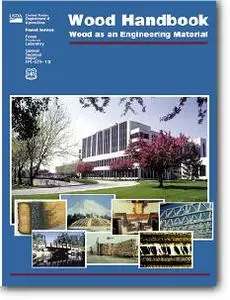 Wood Handbook - «Wood as an Engineering Material»
U.S. Department of Agriculture | 1999 Year | PDF | 9,18 Mb | 483 Pages
This handbook is intended as an aid to more efficient use of wood as a construction material. It provides engineers, architects, and others with a source of information on the physical and mechanical properties of wood and how these properties are affected by variations in the wood itself.
Password
:
www.AvaxHome.ru
Download from Rapidshare
Бонус | Bonus
My other uploaded eBooks (1900+) - links and descriptions
Другие книги, закаченные мной (более 1900) - ссылки и библиографические данные
New!
version 6 (May 03 2006) [1,1 Mb] | Format: txt
Download eBooks list from Mytempdir
Download eBooks list from Rapidshare
If you need a book from the list but the link doesn't work
anymore, send me a message. Also write me about dead links in my other posts, please.
Если Вам необходима книга из списка, а ссылка на нее не работает, то отправьте мне сообщение. Также пожалуйста отправляйте мне сообщения о нерабочих ссылках в моих постах.