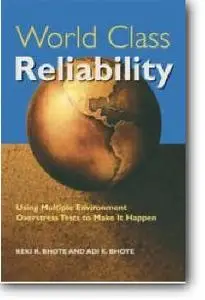 Keki R. Bhote, Adi K. Bhote, «World Class Reliability: Using Multiple Environment Overstress Tests to Make it Happen»
AMACOM | ISBN 0814407927 | 2004 Year | CHM | 3,81 Mb | 224 Pages
Six Sigma has been a giant in the quality movement but has been a pygmy in improving field reliability, i.e., reducing failure rates for customers. Traditional reliability techniques are woefully inadequate and produce fictitious reliability numbers.
World Class Reliability, by contrast, presents a powerful technique to improve reliability by factors of 10:1 and even 100:1. It is Multiple Environment Overstress Tests (MEOST), used by NASA on its famous Lunar Module. Field failures that are found, traditionally, only after months of field exposure can now be "smoked out" in hours in the design laboratory and rapidly corrected; MEOST achieves this by combining several stresses and taking them beyond design stress very, very rapidly.

The result: fantastic reliability improvements; much reduced design cost, manpower, and cycle time; speed to market well ahead of competition; customer loyalty and dramatic profit enhancements for corporations.