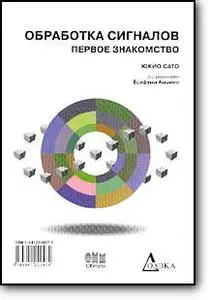 Юкио Сато, «Обработка сигналов. Первое знакомство»
Додэка XXI | ISBN 5941200471, 4274086747 | 2002 год | DjVu | 1,38 Mb | 176 страниц
Книга призвана дать начальное представление о способах обработки сигналов. В живой и доступной для начинающих форме излагаются вопросы представления сигналов и способы их математической обработки. В отдельных главах рассмотрены функции корреляции, ряды Фурье, дискретное и быстрое преобразование Фурье и другие способы обработки сигналов.

Предназначена для широкого круга читателей - радиолюбителей, студентов и школьников, желающих освоить методы обработки сигналов.
Password
:
www.AvaxHome.ru
Download from Rapidshare
Бонус | Bonus
My other uploaded eBooks (1900+) - links and descriptions
Другие книги, закаченные мной (более 1900) - ссылки и библиографические данные
New!
version 6 (May 03 2006) [1,1 Mb] | Format: txt
Download eBooks list from Mytempdir
Download eBooks list from Rapidshare
If you need a book from the list but the link doesn't work
anymore, send me a message. Also write me about dead links in my other posts, please.
Если Вам необходима книга из списка, а ссылка на нее не работает, то отправьте мне сообщение. Также пожалуйста отправляйте мне сообщения о нерабочих ссылках в моих постах.