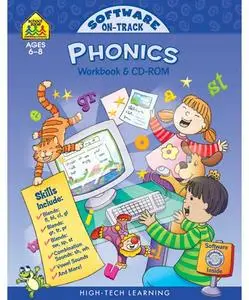 School Zone Phonics CD-Rom
ISO | 181 MB | Language: English
Greater software for kids ages 6-8. It has audio guidance,instant grading,process tracking and ample positive reinforcement.The program randomises problems with each use,providing endless activities. Plus, engaging games offer an important break beetween exercises. Colourful graphics, silly sound effects and funny animations make learning fun.
Minimum System Requirements:
Windows CD-Rom Win 95,98,ME,2000,XP or higher, Pentium 166Mhz or faster processor
Macintosh CD-Rom Mac OS 7.6.1 or higher, PowerPC 150MHz or faster processor