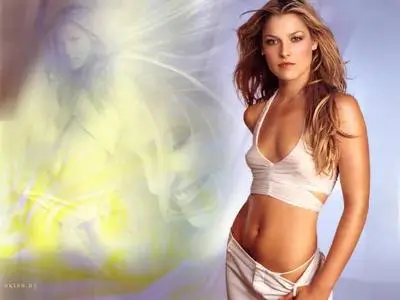 Alison Elizabeth "Ali" Larter Wallpapers
11 JPG | from 1152x862 to 1920x1200 | 3 Mb
Alison Elizabeth "Ali" Larter (born February 28, 1976) is an American actress and former fashion model. She is perhaps best known for her roles in several films aimed at teenage audiences, including Varsity Blues and Final Destination and its sequel Final Destination 2, as well as for starring in the television series Heroes, which began airing in 2006.
Early life
Ali Larter was born in Cherry Hill, New Jersey. She went to school at Carusi Middle School. She began modeling with the world-renowned Ford Models at the age of thirteen and traveled the world. At seventeen, Larter settled temporarily in Japan. A year later, in 1995, she accompanied her boyfriend in his move to Los Angeles, California. Soon after, she began taking acting classes, at a friend's suggestion.
Acting career
In November 1996, Larter played the hoax model Allegra Coleman in Esquire magazine. Even after the hoax had been revealed, its effects lingered, and she was wooed by various agencies. Larter landed her first professional role in 1997, in the television series Chicago Sons. The role was followed by a number of other appearances on several television series, including Dawson's Creek, Chicago Hope and Just Shoot Me.
In 1999, Larter began her film career with appearances in Varsity Blues and House on Haunted Hill. During the next few years, she appeared in a number of movies aimed at a teenage audience, including the box office successes Legally Blonde and Final Destination. In 2001, Larter performed in the stage play The Vagina Monologues in New York City. In 2002, Larter was ranked #40 in Stuff magazine's "102 Sexiest Women in the World".
As of September 2006, Larter is portraying Niki Sanders on the NBC TV series Heroes, and is scheduled to play Claire Redfield in Resident Evil: Extinction (2007).
Personal life
Larter is a close friend of actress Amy Smartwith whom she co-starred in Varsity Blues, and Larter best friend is Erick Alegria whom was a former Sam kid's in Atlantic City. Larter has previously lived in Miami, Florida and currently lives in New York City, having moved there in the spring of 2002.
You can see more quality graphics on my Blog