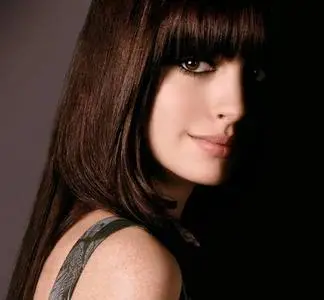 Anne Jacqueline Hathaway
25 JPG - 1200x1920 - 6,5 Mb
Anne Jacqueline Hathaway (born November 12, 1982) is an American film and stage actress. Hathaway made her acting debut in the 1999 television series Get Real, but her first prominent role was in Disney's critically-acclaimed comedy The Princess Diaries (2001), which established her career. She continued to appear in Disney films in the next three years, and she had the lead roles in Ella Enchanted and The Princess Diaries 2: Royal Engagement (both 2004). Although both were popular at the box office, they received mixed reviews from critics.
Hathaway took more creative control over her career in 2005 and co-starred in the adult-themed Havoc and Brokeback Mountain. Because of her partial nude scenes in both films, her contract with Disney was terminated. The Devil Wears Prada (2006) has become the highest-grossing film of her career, and Becoming Jane, in which she stars as Jane Austen, is dated for release in 2007.
Hathaway's acting-style has been compared to that of Judy Garland and Audrey Hepburn, and she cites Hepburn as her favorite actress and Streep as her idol. People magazine named her one of 2001's breakthrough stars and in 2006 she was listed as one of the world's "50 Most Beautiful People".
You can see more quality graphics on my Blog