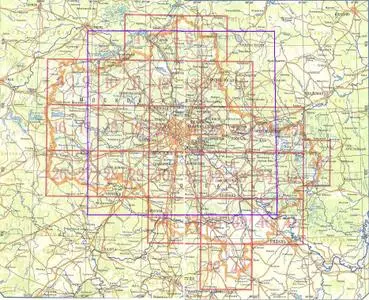 Атлас Московской области - Atlas of the Moscow area
(russian)
JPEG | ~1960х3310 | 42 maps | M1:500000(1sm-5km) | RAR | 36,7Mb | Rapidshare
Топографические карты Московской области - Topographical cards of the Moscow area
(russian)
GIF, JPEG | ~2052x2540 | 69 maps | M1:100000(1sm-1km) | RAR | 66,9Mb | Rapidshare
I open the new publication atlas and topographical cards territory former USSR. The First post will Moscow and area.
On picture you see area engulfed by atlas - a red lines, and topographical cards - a lilac square. In the following will be published cards (in russian language) on topographical sectoring region. On english will are given only names of published terrain.
The Quality of the cards - is published all that there is. If someone have a more high quality, that prima of any offer about exchange, sale or variants.
Я открываю новую публикацию атласов и топографических карт территорий бывшего СССР. Первым постом будет Москва и область.
На картинке вы видете площади охваченные атласом - красные линии, и топографические карты - сиреневый квадрат. В последующем будут публиковаться карты (на русском языке) по топографическим разметкам регионов. На английском языке будут даны только названия публикуемых местностей.
Качество карт - публикуется все, что есть. Если кто-то имеет более высокое качество, то приму любые предложения об обмене, продаже или варианты.