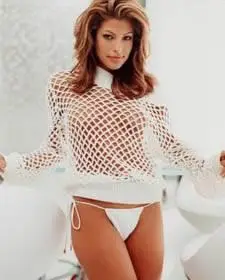 Eva Mendes - Gallery
10 JPG | 2000 x 2500 | 3.85 MB
Eva Mendes (born March 5, 1974) is an American actress. She began acting in the late 1990s, and became known after a series of roles in several major Hollywood films, including 2 Fast 2 Furious, Hitch, and her most recent film, Ghost Rider. Mendes worked her way up through commercials to music videos (including an appearance in Will Smith's video "Miami") to guest roles in television soap operas and supporting film roles. She received her first big-screen break when she appeared in the award-winning and critically-acclaimed Training Day. That performance led to roles in Stuck on You, Once Upon a Time in Mexico, and as the female lead in the comedy Hitch opposite Will Smith. Her role in Once Upon a Time in Mexico also gave her a nomination at the Teen Choice Awards. She has two major movie projects pending, including Ghost Rider, in which she costars along with Nicolas Cage. Mendes is a spokesmodel for Revlon. She has also worked in interior design and has written children's books. Maxim ranked her #27 in their 2006 Hot 100 issue.