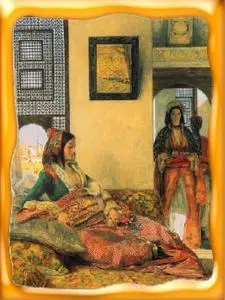 Art by John Frederick Lewis
4 JPG | 1300x2000…2250x2900 | 8,5 Mb
John Frederick Lewis (July 14, 1805 – August 15, 1876) was an English painter. He specialized in Oriental and Mediterranean scenes and often worked in watercolour.
Lewis lived in Spain between 1832 and 1834. He lived in Cairo between 1841 and 1850, where he made numerous sketches that he turned into paintings even after his return to England in 1851. He lived in Walton-on-Thames until his death.
Lewis became an Associate of the Royal Academy (ARA) in 1859 and a member (an RA) in 1865.