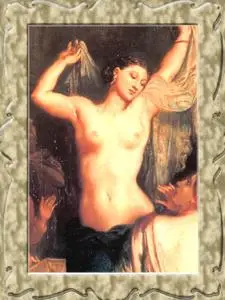 Art by Théodore Chassériau
3 JPG | from 1400x2000 to 2500x3400 | 6,1 Mb
Théodore Chassériau (September 20, 1819 – October 8, 1856) was a French romantic painter noted for his portraits, historical and religious paintings, allegorical murals, and Orientalist images inspired by his travels to Algeria.
Chassériau was born in Samaná, in Saint Domingue (now the Dominican Republic). His father was a Frenchman who held an administrative position in what was then a French colony, and his mother was the daughter of a Creole landowner. The family moved to Paris in 1821, where the young Chassériau soon showed precocious drawing skill. He was accepted into the studio of Jean-Auguste-Dominique Ingres in 1830, at the age of eleven, becoming the favorite pupil of the great classicist. Ingres quickly came to regard him as his truest disciple, declaring: "Come, gentlemen, come see, this child will be the Napoleon of painting."
His work had a significant impact on the style of Puvis de Chavannes and Gustave Moreau, and — through those artists' influence — reverberations in the work of Paul Gauguin and Henri Matisse.