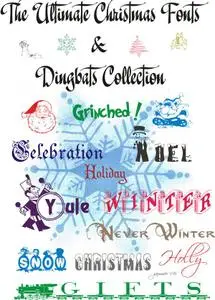 Almost 1000 truetype Fonts Total File Size 47MB

credit to Zammer for this superb collection
A fantastic collection of Christmas Fonts, Dingbats, and Dingfonts. Use them to create wonderful Christmas Cards, Newsletters, Brochures, Web Pages and much, much more! This unique collection combines free and commercial fonts in one single archive. You'll have 300 Dingbats, 520 Dingfonts, and 150 text & script fonts at your fingertips without having to waste time searching the world wide web.
Almost 1000 truetype Fonts Total File Size 47MB
DOWNLOAD
http://rapidshare.com/files/3244036/XmasArts.part3.rar
http://rapidshare.com/files/3241849/XmasArts.part2.rar
http://rapidshare.com/files/3239839/XmasArts.part1.rar
or
http://depositfiles.com/files/372382
pt1
http://depositfiles.com/files/372404
pt2
http://depositfiles.com/files/372432
pt3