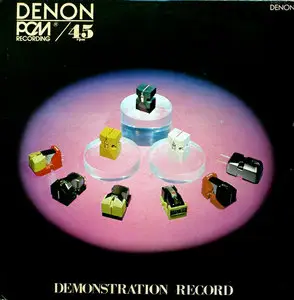 Denon 45 RPM Demonstration LP (1978) 24-Bit/96-kHz vinyl rip
Vinyl rip in 24-Bit/96-kHz | FLAC tracks | Full Cover | MU, FS | 563 MB 3% recovery
1978 | Genre: various | Label: Denon | ST-6005 | Japanese pressing
This japanese pressed LP is the showcase of Denon's digital mastering achievement during the early days of digital sound recording technology. In 1978, digital audio was just starting and the technology was still in its infancy, but yet Denon was able to show the digital prowess with this demonstration LP.
All of the tracks were recorded by Denon in Japan, except one track which was recorded at Copenhagen Messianic Church.
Track Listing:
A1. Cute
(Norio Maeda Trio/ Konosuke Saijo)
A2. The Hustle - Theme from SWAT
(Kiyoshi Sugimoto Group)
A3. Another Beatles
(Columbia Strings)
B2. Program for sound quality comparison tests:
A) Treble - cymbals
B) Midrange - Saxophone
C) Bass - Bass
B3. Body and Soul
(Norio Maeda Trio/ Konosuke Saijo)
B4. Cafnalo E Kokiche
(Bulgarian Capella Choir)
B5. From 'Prelude and Fugue on the Name BACH G-260'
(Charley Orsen)
B6. Kanashii Sake
(Hibari Misora)
Note: Track B1 was not included. It is a test-tone for channel balance check.
Turntable: Roksan Radius III
Tonearm: Audioquest PT-9
Cartridge: Ortofon X5-MC (Moving Coil)
Phono Cable: Van den Hul D-502 Hybrid
Pre-amplifier: Counterpoint SA 5.1 (vacuum tube Sovtek 6922)
Interconnect: balanced, Belden 1813A cable with Neutrik XLR connectors
Analog to Digital Converter: EMU 1212M (configured for balanced input +4dBu, 0 dB Gain)
Capture software: Goldwave 5.52
Post processing: ClickRepair, setting: 15, reverse, wavelet x3