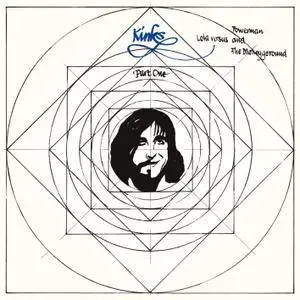 The Kinks - Lola vs. Powerman and the Moneygoround, Pt. 1 (1970/2018)
FLAC (tracks) 24-bit/96 kHz | Time - 40:04 minutes | 922 MB
Studio Master, Official Digital Download | Artwork: Front Cover
Lola , of course, became a classic-rock radio mainstay, but this entire 1970 album is nothing less than essential: Apeman; Got to Be Free; A Long Way from Home; Rats , and more songs that run from the funny to the furious.
"Lola" gave the Kinks an unexpected hit and its crisp, muscular sound, pitched halfway between acoustic folk and hard rock, provided a new style for the band. However, the song only hinted at what its accompanying album Lola Versus the Powerman and the Moneygoround, Part One was all about. It didn't matter that Ray Davies just had his first hit in years – he had suffered greatly at the hands of the music industry and he wanted to tell the story in song. Hence, Lola – a loose concept album about Ray Davies' own psychosis and bitter feelings toward the music industry. Davies never really delivers a cohesive story, but the record holds together because it's one of his strongest set of songs. Dave Davies contributes the lovely "Strangers" and the appropriately paranoid "Rats," but this is truly Ray's show, as he lashes out at ex-managers (the boisterous vaudevillian "The Moneygoround"), publishers ("Denmark Street"), TV and music journalists (the hard-hitting "Top of the Pops"), label executives ("Powerman"), and, hell, just society in general ("Apeman," "Got to Be Free"). If his wit wasn't sharp, the entire project would be insufferable, but the album is as funny as it is angry. Furthermore, he balances his bile with three of his best melancholy ballads: "This Time Tomorrow," "A Long Way from Home," and the anti-welfare and union "Get Back in Line," which captures working-class angst better than any other rock song. These songs provide the spine for a wildly unfocused but nonetheless dazzling tour de force that reveals Ray's artistic strengths and endearing character flaws in equal measure." (Stephen Thomas Erlewine, AMG)
Tracklist:
1. The Contenders 02:41
2. Strangers 03:19
3. Denmark Street 02:02
4. Get Back In Line 03:04
5. Lola 04:01
6. Top of the Pops 03:39
7. The Moneygoround 01:42
8. This Time Tomorrow 03:21
9. A Long Way from Home 02:26
10. Rats 02:39
11. Apeman 03:52
12. Powerman 04:19
13. Got to Be Free 02:59
Personnel:
Ray Davies, lead vocals, guitar, harmonica, keyboards, resonator guitar
Dave Davies, lead guitar, banjo, backing vocals, lead vocals on "Strangers" and "Rats"
Mick Avory, drums, percussion
John Dalton, bass, backing vocals
John Gosling, keyboards, piano, organ
Recorded April–May and August–September 1970 at Morgan Studios, Willesden, London
Produced by Ray Davies
Digitally remastered
foobar2000 1.3.7 / Dynamic Range Meter 1.1.1
log date: 2018-03-30 13:49:54

––––––––––––––––––––––––––––––––––––––––
Analyzed: The Kinks / Lola vs. Powerman and the Moneygoround, Pt. 1
––––––––––––––––––––––––––––––––––––––––

DR Peak RMS Duration Track
––––––––––––––––––––––––––––––––––––––––
DR8 -0.01 dB -10.42 dB 2:42 01-The Contenders
DR7 -0.01 dB -9.94 dB 3:20 02-Strangers
DR8 0.00 dB -9.25 dB 2:03 03-Denmark Street
DR9 -0.01 dB -10.84 dB 3:05 04-Get Back In Line
DR6 -0.01 dB -7.58 dB 4:01 05-Lola
DR7 -0.01 dB -9.29 dB 3:40 06-Top of the Pops
DR7 -0.01 dB -8.30 dB 1:43 07-The Moneygoround
DR7 -0.01 dB -8.47 dB 3:22 08-This Time Tomorrow
DR7 0.00 dB -8.76 dB 2:27 09-A Long Way from Home
DR7 -0.01 dB -8.87 dB 2:40 10-Rats
DR6 -0.01 dB -8.50 dB 3:52 11-Apeman
DR7 -0.01 dB -7.95 dB 4:19 12-Powerman
DR7 -0.01 dB -9.22 dB 3:00 13-Got to Be Free
––––––––––––––––––––––––––––––––––––––––

Number of tracks: 13
Official DR value: DR7

Samplerate: 96000 Hz
Channels: 2
Bits per sample: 24
Bitrate: 3152 kbps
Codec: FLAC
================================================================================
Thanks to the Original customer.