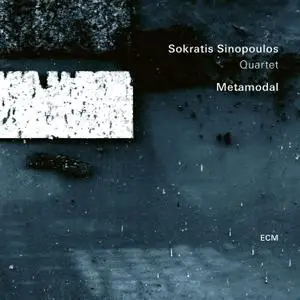 Sokratis Sinopoulos Quartet - Metamodal (2019)
FLAC (tracks) 24-bit/96 kHz | Time - 63:02 minutes | 1.14 GB
Studio Master, Official Digital Download | Artwork: Digital Booklet
Four years after the critically lauded Eight Winds the Athens-based Sokratis Sinopolous Quartet returns with the aptly-named Metamodal. A unique band, the quartet subtly sifts a vast pool of influence, its music informed by the players' experience of folk forms, Byzantine and classical music, and many modes of improvising, including jazz. The combination of Sinopoulos's lyra, with its yearning, ancient tones, and the sensitive, modern piano of Yann Keerim is particularly beguiling, and the group as a whole has made giant steps since its debut. Metamodal, featuring new pieces by Sokratis and a concluding group improvisation, was recorded at Sierra Studios in Athens, and produced by Manfred Eicher.
Of the quartet and its progress, Sokratis says: "We are four people who continue to meet and exchange music and thoughts, braver now in experimenting with new concepts, and with the interaction between us. For me the quartet is the ideal group for exploring compositional ideas and new forms, and I really like the fact that we are able to keep the spark and the fire burning like it's the first time we meet every time we play."
The album begins with Sokratis playing his aching "Lament", outlining troubled beauty against poignant chords in the piano from Keerim. The lyra at once embodies the qualities that Charles Lloyd has spoken of: "When Sokratis Sinopoulos plays, I can see all the history vibrating with the ancient sounds of the strings."
The history of the lyra reaches back to the Byzantine era. "I'm very conscious of it," says Sokratis, "and glad to play an instrument with such a long tradition. Of course, the history can also be a weight, a responsibility to carry. Especially where I live in Greece there are expectations of how the lyra should sound in traditional contexts, in folk music. I respect the history but seek to use it as a base from which to move forward, hoping to mirror the past and the future in my writing and improvising."
The most forward-looking pieces on the present recording may be the three "Metamodal" pieces here, subtitled "Liquid", "Illusions" and "Dimensions". Sinopoulos: "From the compositional point of view these pieces are the core of the album to me. Starting from the modal system I know best, the medieval approach, I tried to create new dimensions and systems and bring them into what we understand as modality here in the Eastern Mediterranean region. In other words, creating new modes and developing them melodically, using the knowledge that we have of all the idioms we admire, including of course jazz, as well as contemporary composition. Sometimes the pieces were developed until I arrived at the point where the music became quite abstract, which I liked in this case." The album title has open-ended significance for Sinopoulos. Metamodal could be interpreted as "post-modal" but Sokratis reminds us that the Greek root meta also translates as among, between, behind and in the midst of and carries the idea of changed and altered as well. "I'm interested in all the meanings that can be implied by Metamodal."
Most of Metamodal was recorded, Sokratis notes, in a single day. On the second day, experiments were broached: "Manfred Eicher suggested we might record an improvised piece. At this point we had the whole album in our ears, so I asked the musicians to use material from 'Metamodal II', as well as material from the rest of the album as a basis for new music." The result was "Mnemosyne", the concluding piece on the album: "This improvisation is like a memory, or an echo, of the whole recording session."
Tracklist:
1. Lament 06:26
2. Metamodal I - Liquid 09:33
3. Transition 06:44
4. Metamodal II - Illusions 10:29
5. Metamodal III - Dimensions 07:56
6. Walking 06:30
7. Dawn 06:25
8. Red Thread 05:17
9. Mnemosyne 03:42
Personnel:
Sokratis Sinopoulos, lyra
Yann Keerim, piano
Dimitris Tsekouras, double bass
Dimitris Emmanouil, drums
foobar2000 1.3.7 / Dynamic Range Meter 1.1.1
log date: 2019-03-15 02:19:41

––––––––––––––––––––––––––––––––––––––––
Analyzed: Sokratis Sinopoulos Quartet / Metamodal
––––––––––––––––––––––––––––––––––––––––

DR Peak RMS Duration Track
––––––––––––––––––––––––––––––––––––––––
DR12 -8.36 dB -26.15 dB 6:27 01-Lament
DR15 -1.46 dB -20.77 dB 9:33 02-Metamodal I - Liquid
DR13 -2.03 dB -19.27 dB 6:44 03-Transition
DR14 -1.43 dB -21.82 dB 10:29 04-Metamodal II - Illusions
DR14 -4.76 dB -24.20 dB 7:56 05-Metamodal III - Dimensions
DR13 -2.51 dB -20.73 dB 6:31 06-Walking
DR13 -0.50 dB -17.69 dB 6:25 07-Dawn
DR12 -7.45 dB -23.80 dB 5:17 08-Red Thread
DR13 -7.35 dB -27.47 dB 3:43 09-Mnemosyne
––––––––––––––––––––––––––––––––––––––––

Number of tracks: 9
Official DR value: DR13

Samplerate: 96000 Hz
Channels: 2
Bits per sample: 24
Bitrate: 2462 kbps
Codec: FLAC
================================================================================
Thanks to the Original customer.