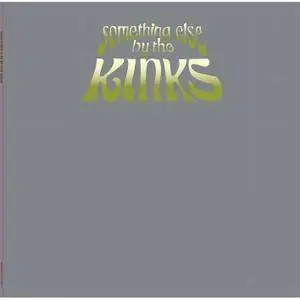 The Kinks - Something Else By The Kinks (1967/2018)
FLAC (tracks) 24-bit/96 kHz | Time - 36:56 minutes | 821 MB
Studio Master, Official Digital Download | Artwork: Front Cover
The brothers Davies were in fantastic form on this 1967 album; the songs range from the witty to the wistful: their classics Waterloo Sunset; Death of a Clown , and David Watts plus Two Sisters; Lazy Old Sun , and more! Having closed out their hard-rock period, the Kinks went pastoral on "Something Else". It's an album of folk and pop songs about the quiet pleasures of family life and the English countryside, dotted with harpsichords, acoustic guitars, and ethereal harmonies. A radical rejection of the Age of Aquarius, it was one of the boldest pop albums of its time, a commercial failure but an artistic landmark. In "Two Sisters," Ray Davies sings about a wild, swinging woman and her homemaking sister, and dares to side with the latter. Other songs include "Afternoon Tea," surely the first rock song ever written on that subject, and the majestic "Waterloo Sunset," which has been described as the most beautiful song ever written in the English language.
"Face to Face was a remarkable record, but its follow-up, Something Else, expands its accomplishments, offering 13 classic British pop songs. As Ray Davies' songwriting becomes more refined, he becomes more nostalgic and sentimental, retreating from the psychedelic and mod posturings that had dominated the rock world. Indeed, Something Else sounds like nothing else from 1967. The Kinks never rock very hard on the album, preferring acoustic ballads, music hall numbers, and tempered R&B to full-out guitar attacks. Part of the album's power lies in its calm music, since it provides an elegant support for Davies' character portraits and vignettes. From the martial stomp of "David Watts" to the lovely, shimmering "Waterloo Sunset," there's not a weak song on the record, and several – such as the allegorical "Two Sisters," the Noël Coward-esque "End of the Season," the rolling "Lazy Old Sun," and the wry "Situation Vacant" – are stunners. And just as impressive is the emergence of Dave Davies as a songwriter. His Dylanesque "Death of a Clown" and bluesy rocker "Love Me Till the Sun Shines" hold their own against Ray's masterpieces, and help make Something Else the endlessly fascinating album that it is." (Stephen Thomas Erlewine, AMG)
Tracklist:
1. David Watts 02:42
2. Death of a Clown 03:16
3. Two Sisters 02:04
4. No Return 02:04
5. Harry Rag 02:18
6. Tin Soldier Man 02:53
7. Situation Vacant 03:14
8. Love Me Till the Sun Shines 03:24
9. Lazy Old Sun 02:49
10. Afternoon Tea 03:26
11. Funny Face 02:29
12. End of the Season 03:00
13. Waterloo Sunset 03:17
Personnel:
Ray Davies, lead vocals, rhythm guitar, harmonica, harp, harpsichord, organ, tuba, maracas
Dave Davies, lead guitar, 12 string guitar, backing vocals, lead vocals (on tracks 2, 8, 11)
Pete Quaife, bass, backing vocals
Mick Avory, drums, percussion
Nicky Hopkins, keyboards, piano
Rasa Davies, backing vocals
Recorded April 1966 – July 1967 at Pye Studios, London
Produced by Shel Talmy, Ray Davies
Digitally remastered
foobar2000 1.3.7 / Dynamic Range Meter 1.1.1
log date: 2018-03-30 13:32:31

––––––––––––––––––––––––––––––––––––––––
Analyzed: The Kinks / Something Else By The Kinks
––––––––––––––––––––––––––––––––––––––––

DR Peak RMS Duration Track
––––––––––––––––––––––––––––––––––––––––
DR9 -0.01 dB -10.54 dB 2:42 01-David Watts
DR9 0.00 dB -10.88 dB 3:17 02-Death of a Clown
DR9 -0.01 dB -10.93 dB 2:04 03-Two Sisters
DR11 -0.01 dB -13.89 dB 2:04 04-No Return
DR11 0.00 dB -11.87 dB 2:19 05-Harry Rag
DR9 -0.01 dB -11.49 dB 2:54 06-Tin Soldier Man
DR9 -0.02 dB -11.03 dB 3:14 07-Situation Vacant
DR9 0.00 dB -10.84 dB 3:25 08-Love Me Till the Sun Shines
DR8 0.00 dB -9.81 dB 2:49 09-Lazy Old Sun
DR9 -0.01 dB -11.30 dB 3:26 10-Afternoon Tea
DR8 -0.02 dB -10.30 dB 2:29 11-Funny Face
DR9 -0.01 dB -10.17 dB 3:00 12-End of the Season
DR8 0.00 dB -9.93 dB 3:17 13-Waterloo Sunset
––––––––––––––––––––––––––––––––––––––––

Number of tracks: 13
Official DR value: DR9

Samplerate: 96000 Hz
Channels: 2
Bits per sample: 24
Bitrate: 3184 kbps
Codec: FLAC
================================================================================
Thanks to the Original customer.