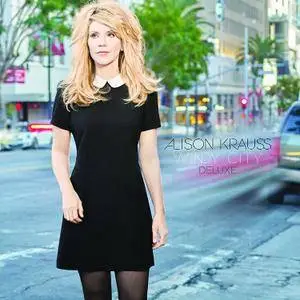 Alison Krauss - Windy City (2017) [Deluxe Edition]
FLAC (tracks) 24-bit/96 kHz | Time - 47:45 minutes | 1,02 GB
Studio Master, Official Digital Download | Artwork: Front cover
"Windy City" is the fifth solo studio album by bluegrass-country artist Alison Krauss. This is Krauss' first solo release of new material in almost eighteen years, and comprises ten covers of classic songs that she handpicked with producer Buddy Cannon. The deluxe edition adds four live versions of tracks.
Alison Krauss is one of the artists who helped break down the barriers between bluegrass and mainstream country music, but even though country radio was willing to make room for her, Krauss never seemed to be interested in courting their favor. Krauss has always followed her own creative path and let the audience come to her with her mature and adventurous approach to acoustic music. Thirty years into her recording career, Krauss has made her most specifically "country" album to date, though it's a musical left turn into a very specific time and place in country's history. Released in 2017, Windy City is a polished and carefully crafted tribute to the countrypolitan sounds of the '50s and '60s, music that fused the emotional honesty and personal storytelling of country with smooth, sophisticated production dominated by pianos and strings, and the set list draws from old standards rather than contemporary compositions. Producer Buddy Cannon has designed Windy City as a showcase for Alison Krauss the vocalist, with her stellar fiddle work appearing on only one track. While pale shadows of contemporary country can be heard in these performances, numbers like "Losing You," "You Don't Know Me," and the title track owe far more to Patsy Cline's classic "Nashville sound" sides than anything that's come out of Music City in the past decade. Even when the music takes on a twangier approach on "Poison Love" and "It's Goodbye and So Long to You," Cannon's production and arrangements are steeped in the sounds of the past; while Krauss's bluegrass music always sounded fresh and contemporary in its approach, Windy City is the sound of her moving forward into the past. If this is a very different Alison Krauss album, it's also a good one; the accompaniment is slick, but it's brilliantly executed, and Cannon favors the clarity and emotional range of Krauss's voice. She meets the demands of the material beautifully, and she brings a warmth and subtle passion to songs like "Gentle on My Mind" and "You Don't Know Me" that makes you briefly forget the definitive recordings of these classics. It remains to be seen if Windy City is a brief creative detour for Alison Krauss or the first salvo of a new creative direction. But if Krauss wants to be the new voice of retro countrypolitan music, Windy City leaves no doubt that she has the talent and the intelligence to make it work, and this album is a richly satisfying experience.
Tracklist:
01 - Losing You
02 - It's Goodbye And So Long To You
03 - Windy City
04 - I Never Cared For You
05 - River In The Rain
06 - Dream Of Me
07 - Gentle On My Mind
08 - All Alone Am I
09 - Poison Love
10 - You Don't Know Me
11 - Windy City
12 - River In The Rain
13 - Losing You
14 - I Never Cared For You
Analyzed: Alison Krauss / Windy City (Deluxe)
––––––––––––––––––––––––––––––––––––––––

DR Peak RMS Duration Track
––––––––––––––––––––––––––––––––––––––––
DR9 0.00 dB -11.79 dB 2:56 01-Losing You
DR8 0.00 dB -9.52 dB 3:11 02-It's Goodbye And So Long To You
DR8 0.00 dB -9.26 dB 3:16 03-Windy City
DR8 0.00 dB -10.60 dB 2:46 04-I Never Cared For You
DR10 0.00 dB -13.72 dB 3:52 05-River In The Rain
DR8 0.00 dB -9.69 dB 4:04 06-Dream Of Me
DR9 0.00 dB -10.64 dB 3:34 07-Gentle On My Mind
DR10 -0.57 dB -13.79 dB 3:26 08-All Alone Am I
DR9 0.00 dB -10.24 dB 2:55 09-Poison Love
DR9 0.00 dB -12.00 dB 4:19 10-You Don't Know Me
DR7 0.00 dB -8.79 dB 3:19 11-Windy City
DR9 0.00 dB -13.10 dB 4:21 12-River In The Rain
DR9 0.00 dB -11.19 dB 2:52 13-Losing You
DR8 0.00 dB -10.19 dB 2:54 14-I Never Cared For You
––––––––––––––––––––––––––––––––––––––––

Number of tracks: 14
Official DR value: DR9

Samplerate: 96000 Hz
Channels: 2
Bits per sample: 24
Bitrate: 2701 kbps
Codec: FLAC
================================================================================


Thanks to the Original customer!