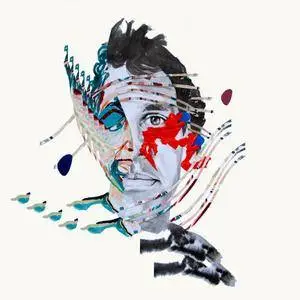 Animal Collective - Painting With (2016)
FLAC (tracks) 24-bit/88,2 kHz | Time - 41:09 minutes | 942 MB
Studio Master, Official Digital Download | Artwork: Front cover
Animal Collective have many, many strengths but brevity has never really been one of them. Until now, that is, because their M.O. for the follow-up to 2012's "Centipede Hz" was "no B.S, get in, get out material". Recorded at the Hollywood studio where The Beach Boys created "Pet Sounds", and inspired by "Cubism, Dadaism, and the distorted way those artists viewed the world", "Painting With" is every bit as ambitious as previous Animal Collective records. And yet, out of the jumble of complex polyrhythms, psychedelic synth effects and hyperactive vocal harmonies, the trio have conjured a set that's flab-free and packed full of pop hooks.
Wielding the lineup of Avey Tare (David Portner), Panda Bear (Noah Lennox), and Geologist (Brian Weitz) – the same as on their most popular LP to date, 2009's Merriweather Post Pavilion – beloved indie experimenters Animal Collective show no signs of dulling with age on their tenth long-player, Painting With. The album does, however, mark a change in approach. Bursting with creatively wacky pop tunes using a vibrant, at times '50s sci-fi-evoking electronics palette, Animal Collective could have more accurately called this their Devo album instead of "our Ramones record" as Geologist did in a pre-release Rolling Stone interview. The point is taken, though: forms are tightened, artificial reverb shed, experimental excursions not eliminated but greatly limited, and a premium is placed on lively beats and pleasing harmonies. Fans shouldn't worry that they've produced a collection of aerodynamic jingles, however; the songs still sound artful and uniquely Animal Collective. For instance, rhythmically complex tandem vocals skip and trip through the album, as on the exacting "Lying in the Grass" and "Hocus Pocus" (which also features John Cale on viola). Lyrics are repeated syllable by syllable until the two singers join for moments of harmony, keeping the melodies bouncing like a Max Fleischer cartoon. "Summing the Wretch" is a polyrhythmic ditty that uses these shadow vocals and a brisk tempo to challenge any attempted singalongs (imagine a stimulant-addled "Sleigh Bells"). Elsewhere, "On Delay" is the glitchiest song on the record but governed by fat, driving drum tones and a loose structure that glides along intermittent, railroad switch-like chord progressions, though at roller coaster pace. If that doesn't sound fun enough, samples of the Surfaris' "Wipeout" ("FloriDada") and dialogue from TV's The Golden Girls ("Golden Gal") also grace the album. Painting With was recorded in Studio 3 of EastWest Studios in Hollywood, California, the same space where many legendary albums including the Beach Boys' Pet Sounds were recorded. Undeniably great sounding, the record puts Animal Collective's brightest colors forward and, if history is any indication, is no predictor whatsoever of what they may do next.
Tracklist:
01 - FloriDada
02 - Hocus Pocus
03 - Vertical
04 - Lying In The Grass
05 - The Burglars
06 - Natural Selection
07 - Bagels In Kiev
08 - On Delay
09 - Spilling Guts
10 - Summing The Wretch
11 - Golden Gal
12 - Recycling
Analyzed: Animal Collective / Painting With
––––––––––––––––––––––––––––––––––––––––

DR Peak RMS Duration Track
––––––––––––––––––––––––––––––––––––––––
DR5 -0.70 dB -7.07 dB 4:06 01-FloriDada
DR6 -0.99 dB -8.47 dB 3:17 02-Hocus Pocus
DR6 -0.89 dB -7.85 dB 4:15 03-Vertical
DR6 -0.94 dB -8.45 dB 3:34 04-Lying In The Grass
DR5 -0.99 dB -7.58 dB 2:44 05-The Burglars
DR5 -0.99 dB -7.05 dB 2:42 06-Natural Selection
DR6 -0.99 dB -8.43 dB 2:48 07-Bagels In Kiev
DR5 -0.99 dB -7.44 dB 3:49 08-On Delay
DR5 -0.99 dB -6.98 dB 1:58 09-Spilling Guts
DR5 -0.83 dB -7.31 dB 3:09 10-Summing The Wretch
DR6 -0.99 dB -8.95 dB 4:42 11-Golden Gal
DR6 -0.99 dB -8.96 dB 4:07 12-Recycling
––––––––––––––––––––––––––––––––––––––––

Number of tracks: 12
Official DR value: DR5

Samplerate: 88200 Hz
Channels: 2
Bits per sample: 24
Bitrate: 2862 kbps
Codec: FLAC
================================================================================


Thanks to the Original customer!