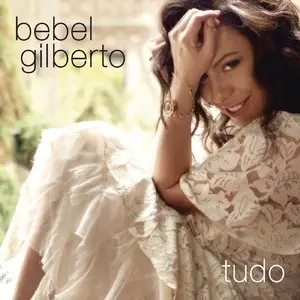 Bebel Gilberto - Tudo (2014)
FLAC (tracks) 24 bit/96 kHz | Time - 45:00 minutes | 917 MB
Studio Master, Official Digital Download | Artwork: Digital Booklet
World renowned multi-Grammy-nominated singer/songwriter Bebel Gilberto releases her first studio album in five years, "Tudo". Gilberto, daughter of bossa nova immortal João Gilberto, is one of the most internationally famous and beloved of Brazilian musicians. "Tudo", which means "everything" in English, showcases Bebel's ethereal vocals and wistful, dreamy songwriting in each of the album's 12 tracks. Bebel reunites with Mario Caldato Jr. who produced her first landmark album, "Tanto Tempo". With Bebel singing in French, English and Portuguese, "Tudo" is a shimmering, sweet summery collection that includes original songs along with songs by her father, Antônio Carlos Jobim, Neil Young and John Michel-Jarré as well as soulful duet with Seu Jorge. The gorgeous melodies are shaped by touches of electronica and Bebel's intimate vocals hint at a fantastical Rio de Janeiro, a style that has earned her a devoted fanbase worldwide.
Tudo is Brazilian singer and songwriter Bebel Gilberto's first album in five years. It marks a reunion with producer Mario Caldato, Jr., who helmed her breakthrough offering, 2000's Tanto Tempo. Recorded in six different studios in America and Brazil, Gilberto's MPB weds modern bossa, samba, contemporary jazz, and adult pop. Tudo's sound is elegant, more restrained yet more colorful than anything she's attempted before. She wrote or co-wrote seven of these tunes and sings in Portuguese, English, and French. The dreamy, sun-drenched opener, "Somewhere Else," with bossa guitars, jazzy piano, brushed drums, and gentle percussion, is brilliantly but subtly illustrated by a slightly dramatic string arrangement from Miguel Atwood-Ferguson (who does the same on two other selections), making the tune a kind of manifesto. That determination is furthered in "Nada Nāo," as Gilberto is supported by acoustic guitar, bass, and a bevy of percussion instruments. "Novas Ideias" is a sprightly, sly, jazzy samba in duet with her co-writer, Seu Jorge, complete with his killer scat singing. One of the two big surprises here is her sensual reading of Neil Young's "Harvest Moon." Gorgeous in its romanticism, a gentle bossa backbeat is played by an array of percussion, given added dimension by upright and arco basses, lap steel, tres, piano, and acoustic guitars that all float in the humid space behind her voice. The other is a worthy cover of Luiz Bonfá's classic "Saudade Vem Correndo," with Didi Gutman's Walter Wanderley-esque organ, two flutes, guitar, and bass. The tempo is elastic, balancing jazz and samba. "Tout Est Bleu," composed by Andrew Anisere, Allioum Ba, and the late Pascale Hospital, is almost a contemporary jazz update of Pierre Barouh's Saravah Records' sound. "Lonely in My Heart," the other side of the emotions expressed on the set's first two tracks, is given a spacy, slightly psychedelic pop treatment, with sitar next to guitars, loops, and percussion. This is almost countered by Gilberto's reading of Tom Jobim's "Vivo Sonhando," a bossa nova closely associated with her father, João, revealing her command of the genre's musical language. Closer "Inspiraçāo," with its dubby synths and loops, is the only real concession to modern club, but a fine one. Given Gilberto's effortless presentation, Tudo seems somewhat sleepy on first listen. However, given the variety of its songs, her emotional commitment, and the simple yet sophisticated arrangements, the album gradually unfolds into something nearly magical once the listener moves further in.
Tracklist:
01 - Somewhere Else
02 - Nada Não
03 - Tom de Voz
04 - Novas Idéias
05 - Harvest Moon
06 - Tudo
07 - Saudade Vem Correndo
08 - Areia
09 - Tout est Bleu
10 - Lonely in My Heart
11 - Vivo Sonhando
12 - Inspiração
13 - It's All Over Now
Produced, Recorded and Mixed by Mario Caldalo Jr. Mastered by Joe "The Butcher" Nicolo.
Recorded at MCJ Studios, Los Angeles. CA; Superlegal Studios, Brooklyn, NY; Estudio Nas Nuvens, Rio de Janeiro, Brazil;
Estudio Marini, Rio de Janeiro, Brazil; Pinewave Studio, Portland, OR; MK Studios, Belem, Brazil. Track 3 mixed at MCJ Studios, Los Angeles, CA.
Analyzed: Bebel Gilberto / Tudo
––––––––––––––––––––––––––––––––––––––––

DR Peak RMS Duration Track
––––––––––––––––––––––––––––––––––––––––
DR9 -0.45 dB -10.71 dB 4:10 01-Somewhere Else
DR9 -0.45 dB -10.14 dB 3:04 02-Nada Não
DR8 -0.45 dB -10.94 dB 2:37 03-Tom de Voz
DR8 -0.45 dB -10.01 dB 3:25 04-Novas Idéias
DR10 -0.45 dB -12.21 dB 5:04 05-Harvest Moon
DR9 -0.45 dB -10.94 dB 3:11 06-Tudo
DR10 -0.45 dB -11.54 dB 2:56 07-Saudade Vem Correndo
DR11 -0.45 dB -13.68 dB 3:51 08-Areia
DR10 -0.45 dB -11.38 dB 3:44 09-Tout est Bleu
DR10 -0.45 dB -11.06 dB 3:34 10-Lonely in My Heart
DR10 -0.45 dB -12.39 dB 2:38 11-Vivo Sonhando
DR11 -0.45 dB -13.87 dB 3:40 12-Inspiração
DR10 -0.45 dB -12.42 dB 3:06 13-It's All Over Now
––––––––––––––––––––––––––––––––––––––––

Number of tracks: 13
Official DR value: DR10

Samplerate: 96000 Hz
Channels: 2
Bits per sample: 24
Bitrate: 2610 kbps
Codec: FLAC
================================================================================


Thanks to the Original customer!