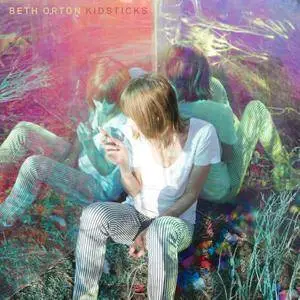 Beth Orton - Kidsticks (2016)
FLAC (tracks) 24-bit/48 kHz | Time - 37:34 minutes | 486 MB
Studio Master, Official Digital Download | Artwork: Front cover
Elizabeth Caroline "Beth" Orton is an English singer-songwriter, known for her 'folktronica' sound, which mixes elements of folk and electronica. "Kidsticks", produced by Tucker Martine (Decemberists, My Morning Jacket), explores a rawer sound while also displaying rich orchestral textures without leaving completely behind her roots in the electronica scene.
When Beth Orton released Sugaring Season in 2012, she had moved as far as possible from her "folktronica" origins. She'd taken guitar lessons from Bert Jansch, written more formally conventional songs, and used an organic all-star studio band that included Brian Blade, Eyvind Kang, and Rob Burger, with string arrangements by Nico Muhly. Four years on, she's completely re-embraced technology. Kidsticks doesn't reflect the synthesis of folk and electronica she explored with Andrew Weatherall and William Orbit, though. After relocating to Southern California, she's enlisted Andrew Hung of Fuck Buttons and prolific mixing engineer David Wrench (Hot Chip, Caribou, FKA twigs) in delivering her most radical – and musically playful – album. This set leaves her acoustic guitar, when present at all, in the background, replaced by layer upon layer of loops, beats, and synths that frame her voice in (mostly) well-crafted, memorable songs. "Snow"'s polyrhythmic series of loops recalls Talking Heads circa Remain in Light. Her vocals are delivered with stacked harmonies in call and response atop a whomping bassline, skittering handclaps, and ambient washes. The wonky synths and miniature breakdowns in "1973" wed early Daft Punk to late-'70s Kraftwerk as her voice rises dreamily to the top. First single "Moon" features jazz drummer Guillermo Brown and bassist Bram Inscore. They create a propulsive double-time rhythm track that would fill any dancefloor. The melody is pure Orton, but Hung piles on a truckload of extra beats and the cut moves in two directions at once: its lyric is tender and emotional, its sound is hyperkinetic club hedonism. "Petals" and "Dawnstar" contain Orton's distinctive, lived-in voice and simply gorgeous melodies. The former contains a synth drop bass and squalling psychedelic electric guitars in buckets of reverb, while the latter is a spacious 21st century take on Frippertronics loops with a thrumming bass drum, fragmented silvery synths, and string effects. They surround her finest – and easily most expressive – vocal on the album. This doesn't all work, however. The wispy spoken word and birdsong effects on "Corduroy Legs" become monotonous after 30 seconds, and the title track closer is an instrumental sketch that falls flat after the romantic, sensual, synthetic pop-soul that is "Flesh and Blood." These are small complaints on a record as exploratory and bracing as this. Kidsticks isn't the sound of Orton closing her circle but opening it wide. In her restlessness and self-discovery, she looks outward and comes away fresh and renewed as a result.
Tracklist:
01 - Snow
02 - Moon
03 - Petals
04 - 1973
05 - Wave
06 - Dawnstar
07 - Falling
08 - Corduroy Legs
09 - Flesh and Blood
10 - Kidsticks
Analyzed: Beth Orton / Kidsticks
––––––––––––––––––––––––––––––––––––––––

DR Peak RMS Duration Track
––––––––––––––––––––––––––––––––––––––––
DR6 0.00 dB -8.74 dB 4:13 01-Snow
DR7 0.00 dB -9.06 dB 4:02 02-Moon
DR6 0.00 dB -8.27 dB 3:59 03-Petals
DR7 0.00 dB -8.87 dB 2:53 04-1973
DR7 0.00 dB -7.99 dB 3:16 05-Wave
DR7 0.00 dB -8.83 dB 4:47 06-Dawnstar
DR7 0.00 dB -8.88 dB 4:22 07-Falling
DR11 0.00 dB -12.65 dB 3:02 08-Corduroy Legs
DR9 0.00 dB -10.62 dB 5:43 09-Flesh and Blood
DR11 -0.62 dB -16.62 dB 1:16 10-Kidsticks
––––––––––––––––––––––––––––––––––––––––

Number of tracks: 10
Official DR value: DR8

Samplerate: 48000 Hz
Channels: 2
Bits per sample: 24
Bitrate: 1360 kbps
Codec: FLAC
================================================================================


Thanks to the Original customer!