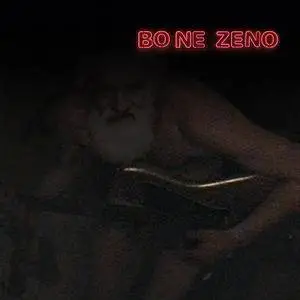 Bone Zeno - Black Milk (2017)
FLAC (tracks) 24-bit/48 kHz | Time - 47:36 minutes | 628 MB
Studio Master, Official Digital Download | Artwork: Front cover
Some people need to create in order to remain sane and Bone Zeno confesses he is one of those lost souls who will need to drain the beastly venom of hyperactivity from his veins until the Devil needs an overcoat. An animal of instinct, he tunes into a higher power allowing creativity to flow and mutate into the plethora of musical styles that can be found in his recordings and live performances. One man band & Industrial Avant-Garde Punk-Trash-Blues Outlaw returns from exile with "Black Milk".
If you meet anyone who tells you that Bone Zeno is NOT inspired by the likes of Tom Waits and Nick Cave respectively (especially in his early Birthday Party years), and goes to the trouble of accusing anyone who makes the comparison of "lazy journalism", give them a swift kick in the knackers from me, will you? It is blatantly obvious where the German born former Parkinsons man is coming from on Black Milk; Hell, often he even sounds like both of them at once!

'2 The Bone', which jumpstarts the engine, is Waits at his bluesiest, while 'Äshn Skin', premiered a couple of weeks back on these very pages, harks back to the twisted bassline of something like 'Diamonds On My Windshield' with dark, Cave-like lyrics that are "a devastated meditation on the death of a close friend – musician and film librarian, Cameron Bain."

Many other references could be levelled at Bone Zeno, however, with tracks like 'Ride On' calling to mind the commercial appeal of artists like The Doors or Iggy Pop, and perhaps even the vastly underappreciated 60s garage jewels The Creation. 'Get Me Down' is like a deep down and dirty glam rock tune with a rhythm which recalls 'Spirit In The Sky', but muddied beyond recognition on the back of a misunderstood rebel's motorcycle. Maybe the closest thing we had to this kind of thing in recent years was London post-grunge outfit The Zico Chain, although Zeno is altogether more theatrical. In a good way.

'Drink' sounds like Waits sitting in his shed, paranoidly pontificating 'What's He Building' before having a huge argument with Cave which results in the pair of them furiously throwing garden shears and lawnmowers at each other, and effectively trashing the place. Perfect chaos, and if ever there was a phrase to consummately describe what Bone Zeno sounds like, that must be it.

As intense as Black Milk undeniably is, however, there is still room for an emotional uplift in places. Look no further than 'Black Bones' for evidence, whose piano fuelled second half brings a lovely and much needed levity to proceedings. True, the Waitsian rasp is a constant, at times almost deranged focal point of these aural paintings, but it never grates. Quite the opposite, in fact, as we are drawn into this murky sounding underworld and somehow find ourselves starting to inexplicably enjoy the torment, much like Walter White in Breaking Bad.
Tracklist:
01 - 2 The Bone
02 - U Fuck Me
03 - Äshn Skin
04 - Ride On
05 - Get Me Down
06 - Drink
07 - Black Bones
08 - Dirt Road
09 - Nicked God
10 - Caroline
11 - Bleed
Analyzed: Bone Zeno / Black Milk
––––––––––––––––––––––––––––––––––––––––

DR Peak RMS Duration Track
––––––––––––––––––––––––––––––––––––––––
DR6 -0.02 dB -6.83 dB 2:59 01-2 The Bone
DR7 0.00 dB -8.08 dB 5:07 02-U Fuck Me
DR7 -1.09 dB -9.90 dB 3:34 03-Äshn Skin
DR5 -0.07 dB -7.24 dB 4:02 04-Ride On
DR5 -0.08 dB -6.42 dB 3:14 05-Get Me Down
DR6 -0.02 dB -8.13 dB 4:49 06-Drink
DR6 -0.06 dB -7.15 dB 3:46 07-Black Bones
DR6 -0.55 dB -7.70 dB 4:52 08-Dirt Road
DR6 0.00 dB -7.89 dB 4:36 09-Nicked God
DR5 -0.08 dB -7.08 dB 4:18 10-Caroline
DR5 -0.04 dB -6.96 dB 6:18 11-Bleed
––––––––––––––––––––––––––––––––––––––––

Number of tracks: 11
Official DR value: DR6

Samplerate: 48000 Hz
Channels: 2
Bits per sample: 24
Bitrate: 1805 kbps
Codec: FLAC
================================================================================


Thanks to the Original customer!