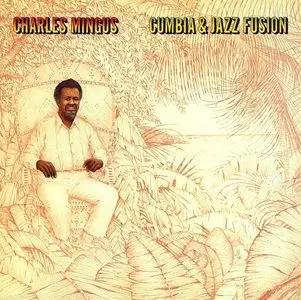 Charles Mingus - Cumbia & Jazz Fusion (1977/2011)
FLAC (tracks) 24 bit/192 kHz | Time - 50:14 minutes | 1,84 GB
FLAC (tracks) 24 bit/96 kHz | Time - 50:14 minutes | 1,04 GB
Studio Master, Official Digital Download | Artwork: Front cover
"Cumbia & Jazz Fusion" is an electrifying work that features two extended compositions by one of the most notable figures in twentieth century American music. The title track highlights a varied use of woodwind instruments creating a full-bodied arrangement bursting with Latin and African rhythms. Compelling melodies can be experienced on the blues-inspired swing track "Music For Todo Modo". The album is a fine recording late in Mingus' extensive career.
As Charles Mingus' career (and life) moved into its final phase, his recordings exclusively featured large (and often potentially unruly) ensembles. This CD, which contains two rather long performances originally recorded as soundtracks for films, is better than most of what followed. "c" has a large percussion section and quite a few woodwinds along with trumpeter Jack Walrath, tenor saxophonist Ricky Ford, and trombonist Jimmy Knepper while "Music for 'Todo Modo'" adds five horns to Mingus' quintet. The music is episodic but generally holds its own away from the film.
Tracklist:
01 - Cumbia & Jazz Fusion
02 - Music For 'Todo Modo'
Recorded on March 29-31, 1976 at Sound WorkShop and Dirmaphon Studio, Rome, Italy ("2"); & March 10, 1977 in NYC ("1").
Charles Mingus: bass, vocals, percussion
Jack Walrath: trumpet, percussion (tracks 1 & 2)
Jimmy Knepper: trombone, bass trombone (track 1)
Mauricio Smith: flute, piccolo, soprano saxophone, alto saxophone (track 1)
Paul Jeffrey: oboe, tenor saxophone (track 1)
Gene Scholtes: bassoon (track 1)
Gary Anderson: contrabass clarinet, bass clarinet (track 1)
Ricky Ford: tenor saxophone, percussion (track 1)
Bob Neloms: piano (track 1)
Dannie Richmond: drums (tracks 1 & 2)
Candido: congas (track 1)
Daniel Gonzales: congas (track 1)
Ray Mantilla: congas (track 1)
Alfredo Ramirez: congas (track 1)
Bradley Cunningham: percussion (track 1)
Dino Piana: trombone (track 2)
Anastasio Del Bono: oboe, english horn (track 2)
Pasquale Sabatelli: bassoon (track 2)
Roberto Laneri: bass clarinet (track 2)
Giancarlo Maurino: alto saxophone (uncredited) (track 2)
Quarto Maltoni: alto saxophone (track 2)
George Adams: tenor saxophone, alto flute (track 2)
Danny Mixon: piano, organ (track 2)


Analyzed: Charles Mingus / Cumbia & Jazz Fusion
––––––––––––––––––––––––––––––––––––––––

DR Peak RMS Duration Track
––––––––––––––––––––––––––––––––––––––––
DR9 0.00 dB -12.52 dB 28:01 01-Cumbia & Jazz Fusion
DR13 0.00 dB -16.79 dB 22:14 02-Music For 'Todo Modo'
––––––––––––––––––––––––––––––––––––––––

Number of tracks: 2
Official DR value: DR11

Samplerate: 192000 Hz
Channels: 2
Bits per sample: 24
Bitrate: 5013 kbps
Codec: FLAC
================================================================================


Thanks to the Original customer!