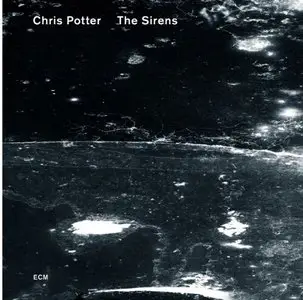 Chris Potter - The Sirens (2013)
FLAC (tracks) 24 bit/88,2 kHz | Time - 63:42 minutes | 1,17 GB
Studio Master, Official Digital Download | Artwork: Digital booklet
"The Sirens" is acclaimed saxophonist Chris Potter's ECM debut as a leader. It is an album of mood and melody, inspired by Homer's The Odyssey, both with its epic atmosphere and timeless humanity. Potter has previously contributed on several ECM albums with Dave Holland, Paul Motian and Jason Moran. Joining Potter are virtuosic musicians Craig Taborn, David Virelles, Larry Grenadier and Eric Harland. Potter declaims lyrical lines over the dynamically inventive rhythm section, as coloristic keyboards shimmer like stars in the night sky.
The Sirens is Chris Potter's debut as a leader for ECM but he's no stranger to the label. He recorded as a member of Dave Holland's band, and collaborated with Paul Motian and Jason Moran on Lost in a Dream. The saxophonist's quintet here includes pianist Craig Taborn – a member of Potter's electric ensemble Underground – bassist Larry Grenadier, drummer Eric Harland, and the relatively unknown David Virelles, texturing the proceedings on prepared piano, celeste, and harmonium. Creating a concept album as your first offering for a new label is a brave endeavor, but Potter rises to it. The Sirens is inspired by his re-reading of Homer's The Odyssey; he was moved by the enduring qualities of humanity in that epic, and wrote the entire album in two weeks. Potter's inherent lyricism is evident from opener "Wine Dark Sea," that offers the feel of the first romantic, tentative steps when embarking on an adventure. After a brief intro, Grenadier sets a groove articulated by Taborn, whose painterly chords offer a palette for Harland. When Potter commences the melody, that "sea" is wide open with possibility. His songlike quality is underscored by Taborn's beautiful fills and comps. Potter's tenor solo is warm, inviting, searching. "Dawn (With Her Rosy Fingers)" is introduced by Grenadier's melodic bassline and Taborn's tasteful coloration. When Potter enters, his lines become spidery, alternately inquisitive and emotionally expressive. On the title cut he plays both bass clarinet and tenor. Grenadier's bass is bowed and the sense of seductive foreboding is made plain, even as the lyric line remains mysterious and spare. The entire tune becomes a lament in revelation after the bassist's gorgeous argo solo. Potter's soprano soars in "Penelope," yet it remains, true to form, expressive of only what is necessary to communicate the music's dictates and not his considerable athleticism. The gentle sting provided by Harland and Taborn makes the tune irresistible. "Kalypso" is a taut post-bop tune with wonderful articulations from Harland, Taborn, and Grenadier locking it down even as they grow it out. The culmination of drama and sense of emotional homecoming expressed in "Stranger at the Gate" would have made it a fitting end piece – were it not for the whispering duet between Virelles and Taborn on "The Shades" that gives the set its sense of rest and closure. Potter's vision and compositions on The Sirens never lose sight of his goal: portraying the eternal essence of humanity in the mythos of his subject; his poetic lyricism as a soloist, and his empathy as a bandleader are consummate.
Tracklist:
01 - Wine Dark Sea
02 - Wayfinder
03 - Dawn (With Her Rosy Fingers)
04 - The Sirens
05 - Penelope
06 - Kalypso
07 - Nausikaa
08 - Stranger At The Gate
09 - The Shades
Produced by Manfred Eicher.
Engineer: James A. Farber Assistant: Charlie Kramsky.
Recorded September 2011 at Avatar Studios, New York.
An ECM Production (P)+(C) 2013.
Musicians:
Chris Potter - soprano and tenor saxophones, bass clarinet
Craig Taborn - piano
David Virelles - prepared piano, celeste, harmonium
Larry Grenadier - double bass
Eric Harland - drums
Analyzed: Chris Potter / The Sirens
––––––––––––––––––––––––––––––––––––––––

DR Peak RMS Duration Track
––––––––––––––––––––––––––––––––––––––––
DR14 -0.08 dB -17.81 dB 8:49 01-Wine Dark Sea
DR14 -0.61 dB -18.29 dB 6:53 02-Wayfinder
DR15 -1.18 dB -21.53 dB 7:26 03-Dawn (With Her Rosy Fingers)
DR13 -1.32 dB -20.07 dB 8:40 04-The Sirens
DR15 -0.52 dB -19.78 dB 7:17 05-Penelope
DR16 -1.40 dB -19.18 dB 8:26 06-Kalypso
DR11 -1.32 dB -21.23 dB 5:44 07-Nausikaa
DR15 -1.44 dB -19.80 dB 8:16 08-Stranger At The Gate
DR17 -13.68 dB -40.09 dB 2:12 09-The Shades
––––––––––––––––––––––––––––––––––––––––

Number of tracks: 9
Official DR value: DR15

Samplerate: 88200 Hz
Channels: 2
Bits per sample: 24
Bitrate: 1793 kbps
Codec: FLAC
================================================================================


Thanks to the Original customer!