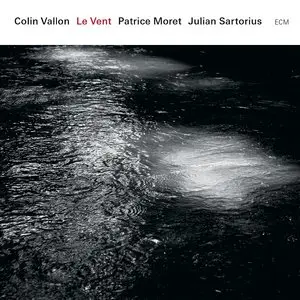 Colin Vallon Trio - Le Vent (2014)
FLAC (tracks) 24 bit/96 kHz | Time - 60:13 minutes | 1,14 GB
tudio Master, Official Digital Download | Artwork: Digital Booklet
This is the second ECM album from the Colin Vallon Trio. Like the wind celebrated in its title track, the group has a subtle, insinuating power. Emerging from a still and silent place, its music can breathe gently, or steadily build pressure until attaining an eruptive forcefulness. This combining of poetic compression and quiet relentlessness was evident on the ECM debut Rruga three years ago, but with leader Vallon now writing almost all of the repertoire (although opening tune "Juuichi" is by Patrice Moret), and new drummer Julian Sartorius detailing its floating rhythms, the Swiss trio has entered a brave new space where touch and inflection are decisively more important than soloistic gesture. Melodies, unfolding slowly, are shared between Moret's bass and Vallon's piano. A fresh group language is being developed here, extended in the group improvisations which close the set.
Le Vent is the Colin Vallon Trio's second date for ECM and reflects a change in personnel, with drummer Julian Sartorius replacing Samuel Rohrer, who had been with the pianist since the mid-2000s. As a whole, Le Vent is more considerably more structured and present than 2011's Rruga; less a pianist's album than a trio recording. Opening track "Juuichi" comes into being contemplatively with speculative chords, brushed snares, toms, and a simple bass pulse, but begins to unfold with an economic melodic statement as both bass and drums interact and counter one another. Vallon explores his minor-shaded voicings and creates a third pulse in syncopated tandem. There is movement everywhere, but a discernible quiet center that focuses the energy from within and directs it out. "Immobile" begins with a hushed cymbal ushering in a two-chord piano vamp, played with halting restraint. By the time bassist Patrice Moret's arco enters, a hovering frame exists and Vallon looks to his bandmates to unwind his melodic ideas further with spacious affirmations and more insistent questions. The bassist drops his bow and the dance of flow and force commences in earnest. There is plenty of quiet investigative work here as well: the title track with its rippling cowbell, spare one-note-to-one-chord assertions, and woody time-keeping by Moret gradually flesh out a simple idea so completely it becomes polyphonous, as Sartorius employs a gentle sense of near swing as the tune builds along a horizontal pattern. The ballad "Goodbye" is skeletal, an impressionistic outline of a melody, with Vallon holding the center as Moret and Sartorius move through, above, and around his queries. "Fade," "Styx," and closer "Coriolis" are atmospheric exercises in group improvisation where textures and sonorities hold sway over statement. Stillness is a central component in this trio's approach. That said, it can be fluid and express itself in movement such as on "Rouge," or near static as evidenced by "Pixels." Le Vent is as focused as it is mysterious; its overall sense of contemplation points at shadowy motion under surfaces and in the margins. When taken together they create an emboldened if unhurried series of utterances in this trio's evolving musical language.
Tracklist:
01 - Juuichi
02 - Immobile
03 - Le vent
04 - Cendre
05 - Fade
06 - Goodbye
07 - Le quai
08 - Pixels
09 - Altalena
10 - Rouge
11 - Styx
12 - Coriolis
Produced by Manfred Eicher. Engineered by Jan Erik Kongshaug.
Recorded in April 2013 at Oslo's Rainbow Studio, Norway.
Musicians:
Colin Vallon - piano
Patrice Moret - double bass
Julian Sartorius - drums
Analyzed: Colin Vallon Trio / Le vent
––––––––––––––––––––––––––––––––––––––––

DR Peak RMS Duration Track
––––––––––––––––––––––––––––––––––––––––
DR13 -0.10 dB -17.13 dB 6:11 01-Juuichi
DR12 -0.10 dB -16.23 dB 6:27 02-Immobile
DR12 -0.10 dB -17.35 dB 5:54 03-Le vent
DR12 -1.50 dB -18.22 dB 6:09 04-Cendre
DR14 -0.12 dB -20.73 dB 5:17 05-Fade
DR16 -0.10 dB -20.62 dB 5:34 06-Goodbye
DR15 -0.10 dB -23.16 dB 5:12 07-Le quai
DR14 -0.10 dB -16.99 dB 4:54 08-Pixels
DR13 -2.67 dB -22.54 dB 3:56 09-Altalena
DR14 -0.10 dB -19.09 dB 6:07 10-Rouge
DR14 -6.13 dB -27.34 dB 2:26 11-Styx
DR12 -8.29 dB -25.21 dB 2:06 12-Coriolis
––––––––––––––––––––––––––––––––––––––––

Number of tracks: 12
Official DR value: DR13

Samplerate: 96000 Hz
Channels: 2
Bits per sample: 24
Bitrate: 2670 kbps
Codec: FLAC
================================================================================


Thanks to the Original customer!