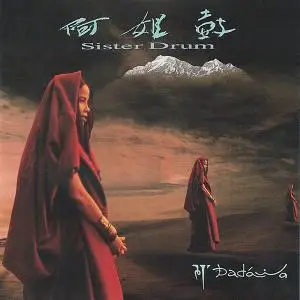 Dadawa - Sister Drum (1995) [Reissue 2014]
SACD Rip | SACD ISO | DST64 2.0 > 1-bit/2.8224 MHz | 43:47 minutes | Front/Rear Covers | 851 MB
or DSD64 2.0 (from SACD-ISO to Tracks.dsf) > 1-bit/2.8224 MHz | Front/Rear Covers | 1,16 GB
or FLAC (carefully converted & encoded to tracks) 24bit/48 kHz | Front/Rear Covers | 492 MB
Sister Drum is the second studio album by Chinese singer Dadawa, which is heavily influenced by the music of Tibet. The album is notable for being the first Asian album to ship over one million copies in China. In traditional Tibetan culture, Sister Drum, whose drumhead is made out of a pure girl's skin, was used for honoring the god. This behavior has now been prohibited in modern Tibet. This studio 'Sister Drum' is based on this cruel context. Only the skin of a pure girl could be chosen to make the drumhead. To prevent them from disturbing in the real world, those girls are better mutes. If it is necessary, sometimes their tongues would be cut out.
It's hard to be rough on an album with such a marvelous beauty to it. Nonetheless, the extremely attractive Sister Drum, which draws its inspiration from Tibetan music and settings, is on the hand a fantastic showcase for Dadawa herself and, in its own way, a travel document for the region that ignores its turbulent situation. A Chinese singer of some repute, Dadawa was approached by producer/songwriter He Xuntian to be the voice for his musical project exploring Tibetan work with an eye towards modern composition and recording. While it's a bit of a push, in ways Sister Drum is the Chinese equivalent of Enya's Watermark, an exquisite and atmospheric record drawing its roots from a non-mainstream cultural source. He's sense of arrangements is quite fine, mixing traditional Tibetan instrumentation with synths, electric guitars and technology while exercising a clear restraint throughout – music and mood is suggested rather than fully spelled out. Indeed, there's a careful drama throughout Sister Drum that's lovely to hear and appreciate. Dadawa's vocals, sometimes full-bodied, sometimes hushed, meanwhile, suit the lonesome, meditative mood of the music, whether kept in the distance in the mix to increase the sense of soaring vistas or sitting squarely in the middle of the understated performances. When she's backed by a full choir on songs like "Sky Burial" and the soaring orchestral concluding piece "The Turning Scripture," the result is truly breathtaking. Evocative and wonderful as this album is, however, one can't help but feel that there's something troubling about it – or more accurately, about the fact that the Chinese government's record on Tibet continues to be horrific while allowing this intentionally apolitical work to be created and marketed. The liner notes carefully emphasize questions of spirituality and native Tibetan beauty – and it would be churlish to doubt Dadawa's sincerity regarding her lyrical sources and inspirations. Yet more than most albums, Sister Drum is one to enjoy while wondering about what hasn't been included as much as what has been. On its own a lovely triumph, in context something questionable still lingers.
Tracklist:
01. Home Without Shadow
02. Sister Drum
03. Sky Burial
04. Di Wei Shin Kan, New Wei Shin Kan (Paradise Inferno)
05. Crossing The Ridge
06. Zhouma Of Zhoumas
07. The Turning Scripture
Composed, Arranged & Produced by He Xun-Tian
foobar2000 1.6.8 / Dynamic Range Meter 1.1.1

––––––––––––––––––––––––––––––––––––––––
Analyzed: Dadawa / Sister Drum
––––––––––––––––––––––––––––––––––––––––

DR Peak RMS Duration Track
––––––––––––––––––––––––––––––––––––––––
DR13 -5.24 dB -23.15 dB 5:58 01-Home Without Shadow
DR12 -5.06 dB -20.93 dB 5:51 02-Sister Drum
DR11 -5.19 dB -20.25 dB 7:34 03-Sky Burial
DR13 -4.95 dB -20.36 dB 4:45 04-Di Wei Shin Kan, New Wei Shin Kan (Paradise Inferno)
DR11 -6.27 dB -20.46 dB 6:02 05-Crossing The Ridge
DR12 -5.52 dB -20.68 dB 4:59 06-Zhouma Of Zhoumas
DR12 -5.16 dB -21.75 dB 8:38 07-The Turning Scripture
––––––––––––––––––––––––––––––––––––––––

Number of tracks: 7
Official DR value: DR12

Samplerate: 2822400 Hz / PCM Samplerate: 176400 Hz
Channels: 2
Bits per sample: 1
Bitrate: 5645 kbps
Codec: DST64


Thanks to jazzyman!
Uncompressed SACD ISO size > 824 MB
>