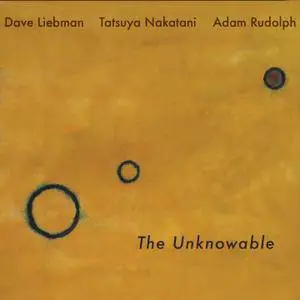 Dave Liebman, Adam Rudolph, Tatsuya Nakatani - The Unknowable (2018)
FLAC (tracks) 24-bit/44,1 kHz | Time - 48:51 minutes | 236 MB
Studio Master, Official Digital Download | Artwork: Front cover
Prolific saxophonist/bandleader Dave Liebman, a living jazz legend and one of the most influential musicians and educators of our times, joins an imaginative duo of percussionists, Tatsuya Nakatani and Adam Rudolph. Together, they create a variety of spontaneous conversations where the reaction to stimulus is a must. Hence, communication plays an essential role throughout "The Unknowable", the result of their experimental meeting.
The Unknowable is a completely improvised, spontaneous group-composed body of music created by legendary saxophone and flute player Dave Liebman together with celebrated percussionists Adam Rudolph and Tatsuya Nakatani. Dave Liebman, whose legendary, more than fifty year-long, career has seen him work with Miles Davis, Elvin Jones, John Scofield, Chick Corea, Dave Holland, Bob Moses and Richie Beirach, collaborates here with Adam Rudolph, himself one of the deepest percussionists of the last half century, whose collaborations encompass Don Cherry, Pharaoh Sanders, Bill Laswell, Herbie Hancock, Omar Sosa and several members of the AACM, and with Japan-born percussionist and sound innovator Tatsuya Nakatani. The result of this extraordinary meeting of the minds is music that stems from the worlds of free and spiritual jazz, yet goesbeyond; It is incredibly open, has no north, south, east and west, it is simultaneously music of all humanity and of the cosmos.
Tracklist:
01 - Benediction (Opening)
02 - The Simple Truth
03 - Late Moon
04 - The Unknowable
05 - Skyway Dream
06 - Transmutation
07 - The Turning
08 - Distant Twilight
09 - Present Time
10 - Iconograph
11 - Cosmogram
12 - Premonition
13 - Benediction (Closing)
Produced by Dave Liebman, Adam Rudolph, Tatsuya Nakatani.
Recorded in July 2016 at Orange Music Sound Studio, New Jersey.
Musicians:
Dave Liebman - tenor and soprano saxophones, c flute, native american flute, recorder, piri, fender rhodes
Adam Rudolph - handdrumset (knogos, djembe, tarija, zabumba), thumb piano, sintir, mbuti harp, slit drum, percussion, overtone flutes, fender rhodes, live electronic processing
Tatsuya Nakatani - drum kit, gongs, metal percussion, percussion
Analyzed: Dave Liebman, Adam Rudolph, Tatsuya Nakatani / The Unknowable
––––––––––––––––––––––––––––––––––––––––

DR Peak RMS Duration Track
––––––––––––––––––––––––––––––––––––––––
DR11 -4.39 dB -21.17 dB 4:14 01-Benediction (Opening)
DR13 -1.84 dB -18.80 dB 3:47 02-The Simple Truth
DR25 -3.72 dB -33.90 dB 3:41 03-Late Moon
DR10 -6.87 dB -22.70 dB 3:25 04-The Unknowable
DR11 -8.43 dB -24.70 dB 4:24 05-Skyway Dream
DR14 -1.03 dB -19.56 dB 4:34 06-Transmutation
DR10 -6.64 dB -17.97 dB 3:39 07-The Turning
DR9 -8.82 dB -24.16 dB 2:57 08-Distant Twilight
DR13 -1.04 dB -16.28 dB 3:25 09-Present Time
DR12 -4.83 dB -21.69 dB 2:05 10-Iconograph
DR13 -5.75 dB -25.19 dB 4:44 11-Cosmogram
DR15 -1.03 dB -20.94 dB 4:08 12-Premonition
DR11 -5.48 dB -21.44 dB 3:48 13-Benediction (Closing)
––––––––––––––––––––––––––––––––––––––––

Number of tracks: 13
Official DR value: DR13

Samplerate: 48000 Hz
Channels: 2
Bits per sample: 24
Bitrate: 600 kbps
Codec: FLAC
================================================================================


Thanks to the Original customer!