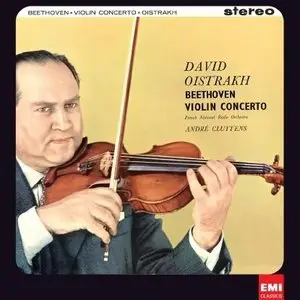 David Oistrakh - Beethoven Violin Concerto (1959/2012)
FLAC (tracks) 24 bit/96 kHz | Time - 45:51 minutes | 1,04 GB
Studio Master, Official Digital Download | Artwork: Front cover
Legendary violinist David Oistrakh delivers a profoundly thrilling rendition of Beethoven's Concerto for Violin and Orchestra in D Major Op.61. Arguably, one of the best violin concertos ever composed, the esteemed violinist delivers with his flawless virtuosity and skillful execution. Features 2011's EMI Remaster, remastered by four historic engineers, the sound is spacious and warm.
David Oistrakh is considered the premiere violinist of the mid-twentieth century Soviet Union. His recorded legacy includes nearly the entire standard violin repertory up to and including Prokofiev and Bartók. Oistrakh's violin studies began in 1913 with the famed teacher Pyotr Stolyarsky. Later he officially joined Stolyarsky's class at the Odessa Conservatory, graduating in 1926 by playing Prokofiev's First Violin Concerto. Performances of the Glazunov Concerto in Odessa and Kiev in 1927, and a 1928 debut in Leningrad (Tchaikovsky Concerto) gave Oistrakh the confidence to move to Moscow. He made his premiere there in early 1929, but the event went largely unnoticed. In 1934, however, after several years of patiently refining his craft, Oistrakh was invited to join the Moscow Conservatory, eventually rising to the rank of full professor in 1939.
Meanwhile, Oistrakh was gaining success on the competition circuit, winning the All-Ukrainian contest in 1930, and the All-Soviet competition three years later. In 1935 he took second prize at the Wieniawski competition. In 1937 the Soviet government sent the now veteran violinist to Brussels to compete in the International Ysaÿe Competition, where he took home first prize.
With his victory in Brussels, Soviet composers began to take notice of their young compatriot, enabling Oistrakh to work closely with Miaskovsky and Khachaturian on their concertos in 1939 and 1940, respectively. In addition, his close friendship with Shostakovich led the composer to write two concertos for the instrument (the first of which Oistrakh played at his, and its, triumphant American premiere in 1955). During the 1940s Oistrakh's active performing schedule took him across the Soviet Union but his international career had to wait until the 1950s, when the political climate had cooled enough for Soviet artists to be welcomed in the capitals of the West.
The remaining decades of Oistrakh's life were devoted to maintaining the highest possible standards of excellence throughout an exhausting touring schedule (he returned to the U.S. six times in the 1960s), and he began a small but successful sideline career as an orchestral conductor. His death came suddenly in Amsterdam in 1974, during a cycle of Brahms concerts in which he both played and conducted. Oistrakh's unexpected death left a void in the Soviet musical world which was never really filled.
Throughout his career David Oistrakh was known for his honest, warm personality; he developed close friendships with many of the leading musicians of the day. His violin technique was virtually flawless, though he never allowed purely physical matters to dominate his musical performances. He always demanded of himself (and his students) that musical proficiency, intelligence, and emotion be in balance, regardless of the particular style. Oistrakh felt that a violinist's essence was communicated through clever and subtle use of the bow, and not through overly expressive use of vibrato. To this end he developed a remarkably relaxed, flexible right arm technique, capable of producing the most delicate expressive nuances, but equally capable of generating great volume and projection.
Tracklist:
01 - Concerto pour violon et orchestre en re majeur Op.61 : I Allegro ma non troppo (Cadence F. Kreisler)
02 - Concerto pour violon et orchestre en re majeur Op.61 : II Larghetto
03 - Concerto pour violon et orchestre en re majeur Op.61 : III Rondo (Allegro) - Cadence F. Kreisler
Soloist: David Oistrakh
Orchestra: The French National Radio Orchestra
Conductor: Andre Cluytens
Analyzed: David Oistrakh / [HD EMI] Beethoven: Violin Concerto (2011 - Remaster)
––––––––––––––––––––––––––––––––––––––––

DR Peak RMS Duration Track
––––––––––––––––––––––––––––––––––––––––
DR14 -0.08 dB -19.04 dB 25:37 01-Concerto pour violon et orchestre en re majeur Op.61 : I Allegro ma non troppo (Cadence F. Kreisler)
DR14 -2.95 dB -22.80 dB 9:45 02-Concerto pour violon et orchestre en re majeur Op.61 : II Larghetto
DR12 -0.08 dB -17.23 dB 10:29 03-Concerto pour violon et orchestre en re majeur Op.61 : III Rondo (Allegro) - Cadence F. Kreisler
––––––––––––––––––––––––––––––––––––––––

Number of tracks: 3
Official DR value: DR13

Samplerate: 96000 Hz
Channels: 2
Bits per sample: 24
Bitrate: 3107 kbps
Codec: FLAC
================================================================================


About the Mastering: Four engineers at Abbey Road Studios in London have remastered these historic EMI recordings from their original analogue sources for release in pristine hi-def. Between them, Simon Gibson, Ian Jones, Andy Walter and Allan Ramsay have many years of experience remastering archive recordings for EMI and other record labels. The process always starts with finding all of the records and tapes in EMI's archive in London and comparing different sources and any previous CD reissues. We consult each recording's job file, which contains notes about the recording made by the engineer and producer. For example, this sometimes explain why there is more than one set of tapes to choose from. All of the tapes are generally in good condition and we play them on our Studer A80 π inch tape machine, after careful calibration of its replay characteristics.

In order to have the best digital remastering tools at our disposal for the remastering, we transfer from analogue to the digital domain at 96 KHz and 24-bit resolution using a Prism ADA-8 converter and capture the audio to our SADiE Digital Audio Workstation.
Thanks to the Original customer!