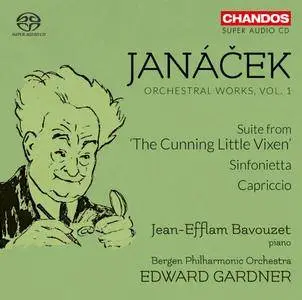 Edward Gardner, Bergen Philharmonic Orchestra - Janáček: Orchestral Works, Vol. 1 (2014)
FLAC (tracks) 24-bit/88.2 kHz | Artwork: d.booklet, front cover | RAR | 1.07 Gb
Classical | Label: Chandos - CHSA 5142
Conductor Edward Gardner and the Bergen Philharmonic here commence their series devoted to Leos Janaceks orchestral works. This opening salvo features three works from Janaceks late, great period: The Sinfonietta, one of the composers most successful and popular works; the Capriccio, with pianist Jean-Efflam Bavouzet taking on the left-hand solo part, and, restored to its original, striking orchestration by Sir Charles Mackerras, the suite of instrumental interludes from Janaceks 1923 opera The Cunning Little Vixen.
The Vol. 1 designation in the graphics suggests that this will be the first item in a complete cycle of Leos Janácek's orchestral works, and as such it's quite promising. The Bergen Philharmonic Orchestra, from Norway, is led by its frequent guest conductor, Edward Gardner. The biggest find here is a work that might more accurately be called chamber music rather than orchestral music: the Capriccio for piano left hand, flute or piccolo, two trumpets, three trombones, and tenor tuba, JW VII/12. This work is rarely heard even on piano one-hand recitals, but its revival here by (two-handed) pianist Jean-Efflam Bavouzet argues for more frequent performances. The undeniably odd ensemble is exquisitely balanced, with equal doses of both Janácek's trademark lyricism and a bit of impish humor. The slow second movement has the feel of entering an enchanted forest. The Sinfonietta, JW VI/18, of the same year and the Suite from The Cunning Little Vixen, JW 1/9, in a version by the great Janácek interpreter Charles Mackerras, are also entirely satisfying: less edgy than Czech versions, perhaps, but cleanly and idiomatically done. Listeners also benefit from the quiet, pleasant acoustic of the Grieghalle in Bergen, handled well by Chandos' engineers. This makes one very ready to hear more in the series.
James Manheim
Tracklist:
01. Sinfonietta. I. Allegretto
02. Sinfonietta. II. Andante
03. Sinfonietta. III. Moderato
04. Sinfonietta. IV. Allegretto
05. Sinfonietta. V. Allegro
06. Capriccio. I. Allegro
07. Capriccio. II. Adagio
08. Capriccio. III. Allegretto
09. Capriccio. IV. Andante
10. Suite from 'The Cunning Little Vixen'. I. The forest - Andante - Tempo I - Allegro - Tempo d
11. Suite from 'The Cunning Little Vixen'. II. The Vixen at the Gamekeeper's farmyard - The Vixe
Total time: 64:05
Solo:
Jean-Efflam Bavouzet
piano
Orchestra:
Bergen Philharmonic Orchestra
Conductor:
Edward Gardner
10-12 March 2014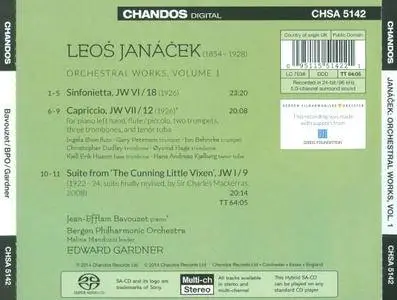 foobar2000 1.3.17 / Dynamic Range Meter 1.1.1
log date: 2018-05-14 23:07:17

––––––––––––––––––––––––––––––––––––––––
Analyzed: Bergen Philharmonic Orchestra conducted by Edward Gardner / Janacek - Orchestral Works, Volume 1
––––––––––––––––––––––––––––––––––––––––

DR Peak RMS Duration Track
––––––––––––––––––––––––––––––––––––––––
DR13 -0.74 dB -17.17 dB 2:09 01-Sinfonietta. I. Allegretto
DR14 -3.06 dB -23.49 dB 6:10 02-Sinfonietta. II. Andante
DR16 -3.95 dB -27.97 dB 5:16 03-Sinfonietta. III. Moderato
DR13 -5.80 dB -25.86 dB 3:00 04-Sinfonietta. IV. Allegretto
DR14 -0.71 dB -20.22 dB 6:35 05-Sinfonietta. V. Allegro
DR15 -6.21 dB -27.15 dB 4:59 06-Capriccio. I. Allegro
DR16 -5.08 dB -28.20 dB 5:11 07-Capriccio. II. Adagio
DR14 -10.95 dB -30.24 dB 3:34 08-Capriccio. III. Allegretto
DR15 -4.02 dB -25.34 dB 6:10 09-Capriccio. IV. Andante
DR16 -7.85 dB -29.31 dB 9:51 10-Suite from 'The Cunning Little Vixen'. I. The forest - Andante - Tempo I - Allegro - Tempo d
DR19 -2.23 dB -28.47 dB 10:26 11-Suite from 'The Cunning Little Vixen'. II. The Vixen at the Gamekeeper's farmyard - The Vixe
––––––––––––––––––––––––––––––––––––––––

Number of tracks: 11
Official DR value: DR15

Samplerate: 88200 Hz
Channels: 2
Bits per sample: 24
Bitrate: 2425 kbps
Codec: FLAC
================================================================================