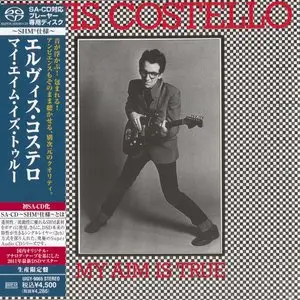 Elvis Costello - My Aim Is True (1977) [Japanese Limited SHM-SACD 2011 # UIGY-9065]
PS3 Rip | SACD ISO | DSD64 2.0 > 1-bit/2.8224 MHz | 36:07 minutes | Scans included | 1,07 GB
or FLAC(converted with foobar2000 to tracks) 24bit/96 kHz | Full Scans included | 898 MB
My Aim Is True is the Platinum-certified debut album by English singer-songwriter Elvis Costello. The album was recorded at Pathway Studios in Highbury, London Borough of Islington, over the course of 1976 six four-hour studio sessions, in a total of approximately twenty-four hours. It was the first of five consecutive Costello albums produced by Nick Lowe and cost £2,000 to record. In 1977 Rolling Stone magazine named the album one of the best of the year. In 2003, the album was ranked number 168 on Rolling Stone magazine's list of The 500 Greatest Albums of All Time. In 2004, it was ranked 37 of the top 100 albums of the 1970s by Pitchfork which said the album was "held by many as the most impressive debut in pop music history". In 2007, the album was inducted into the Grammy Hall of Fame.
Elvis Costello was as much a pub rocker as he was a punk rocker and nowhere is that more evident than on his debut, My Aim Is True. It's not just that Clover, a San Franciscan rock outfit led by Huey Lewis (absent here), back him here, not the Attractions; it's that his sensibility is borrowed from the pile-driving rock & roll and folksy introspection of pub rockers like Brinsley Schwarz, adding touches of cult singer/songwriters like Randy Newman and David Ackles. Then, there's the infusion of pure nastiness and cynical humor, which is pure Costello. That blend of classicist sensibilities and cleverness make this collection of shiny roots rock a punk record – it informs his nervy performances and his prickly songs. Of all classic punk debuts, this remains perhaps the most idiosyncratic because it's not cathartic in sound, only in spirit. Which, of course, meant that it could play to a broader audience, and Linda Ronstadt did indeed cover the standout ballad "Alison." Still, there's no mistaking this for anything other than a punk record, and it's a terrific one at that, since even if he buries his singer/songwriter inclinations, they shine through as brightly as his cheerfully mean humor and immense musical skill; he sounds as comfortable with a '50s knockoff like "No Dancing" as he does on the reggae-inflected "Less Than Zero." Costello went on to more ambitious territory fairly quickly, but My Aim Is True is a phenomenal debut, capturing a songwriter and musician whose words were as rich and clever as his music.
Tracklist:
01 - Welcome To The Working Week
02 - Miracle Man
03 - No Dancing
04 - Blame It On Cain
05 - Alison
06 - Sneaky Feelings
07 - (The Angels Wanna Wear My) Red Shoes
08 - Less Than Zero
09 - Mystery Dance
10 - Pay It Back
11 - I'm Not Angry
12 - Waiting For The End Of The World
13 - Watching The Detectives
DSD Transferred from analogue master tapes by Manabu Matsumura (Universal Studio Mastering).
foobar2000 1.4.3 / Dynamic Range Meter 1.1.1

––––––––––––––––––––––––––––––––––––––––
Analyzed: ELVIS COSTELLO / MY AIM IS TRUE
––––––––––––––––––––––––––––––––––––––––

DR Peak RMS Duration Track
––––––––––––––––––––––––––––––––––––––––
DR12 -6.08 dB -19.68 dB 1:23 01-Welcome To The Working Week
DR12 -4.86 dB -18.15 dB 3:30 02-Miracle Man
DR11 -4.86 dB -18.36 dB 2:40 03-No Dancing
DR12 -5.16 dB -18.31 dB 2:50 04-Blame It On Cain
DR12 -4.35 dB -19.52 dB 3:22 05-Alison
DR11 -5.30 dB -18.51 dB 2:09 06-Sneaky Feelings
DR12 -4.17 dB -17.77 dB 2:46 07-(The Angels Wanna Wear My) Red Shoes
DR13 -4.96 dB -20.58 dB 3:14 08-Less Than Zero
DR11 -5.04 dB -18.77 dB 1:37 09-Mystery Dance
DR12 -5.16 dB -18.65 dB 2:33 10-Pay It Back
DR12 -3.49 dB -18.82 dB 2:58 11-I'm Not Angry
DR11 -2.80 dB -17.43 dB 3:22 12-Waiting For The End Of The World
DR10 -6.62 dB -18.59 dB 3:43 13-Watching The Detectives
––––––––––––––––––––––––––––––––––––––––

Number of tracks: 13
Official DR value: DR12

Samplerate: 2822400 Hz / PCM Samplerate: 176400 Hz
Channels: 2
Bits per sample: 1
Bitrate: 5645 kbps
Codec: DSD64


Thanks to PS³SACD!
Uncompressed SACD ISO size > 1,48 GB
>