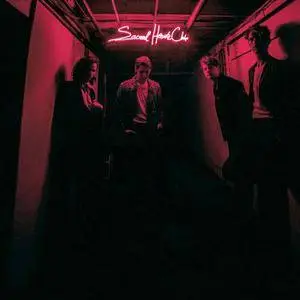 Foster The People - Sacred Hearts Club (2017)
FLAC (tracks) 24-bit/44,1 kHz | Time - 41:42 minutes | 528 MB
Studio Master, Official Digital Download | Artwork: Front cover
Foster the People is an American indie pop band formed in Los Angeles, California in 2009. It currently consists of lead vocalist Mark Foster, lead guitarist Sean Cimino, keyboardist Isom Innis, and drummer Mark Pontius. "Sacred Hearts Club" (the band's third full-length studio release) is one of Foster The People's best pieces of work. It jumps almost flawlessly from alternative rock to electronic to indie pop.
Neon-toned and deliciously funky, Foster the People's third studio album, 2017's Sacred Hearts Club, finds the group eschewing its pleasant indie pop sound in favor of an album of lightly experimental, fluorescent-lit, groove-based tracks. Produced by lead singer/songwriter Mark Foster and keyboardist Isom Innis, along with Josh Abraham, Lars Stalfors, and Oligee, the album is the Los Angeles band's biggest departure yet from the amiable, youthful vibe of 2011's Torches. These are kinetic, hip-hop-inflected tracks rife with '80s-style synths, finger-snapping basslines, skittering dance beats, and club-ready, falsetto-tinged hooks. If there's any contemporary touchstone for the band's approach here, the album-ending ballad "III," with its dreamy, pulsing synths and angelic, cloud-light melodic hook, certainly makes the case that Foster have been listening to a lot of M83. As if to announce the new direction, they kick things off with the steamy, new wave-cum-hip-hop jam "Pay the Man," which finds Foster diving headlong into a hip-sway-inducing rap. Similarly, cuts like the stadium-sized anthem "Doing It for the Money" and the sparklingly buoyant "Sit Next to Me," with their icicle guitar hits and bubbly keyboards, bring to mind an inspired mix of '80s Tom Tom Club and Prince, with just enough modern EDM flourishes to keep things from getting too nostalgic. Along those lines, we get the spacy electro-Motown of "Static Space Lover," the buzzy, blacklight-drenched house music anthem "Loyal Like Sid & Nancy," and the sexy, crystalline, digital hip-hop and R&B flow of "Harden the Paint." Ultimately, the beauty of Sacred Hearts Club is that it sounds like a Foster the People album without unnecessarily rehashing the sound that made them famous.
Tracklist:
01 - Pay the Man
02 - Doing It for the Money
03 - Sit Next to Me
04 - SHC
05 - I Love My Friends
06 - Orange Dream
07 - Static Space Lover
08 - Lotus Eater
09 - Time to Get Closer
10 - Loyal Like Sid & Nancy
11 - Harden the Paint
12 - III
Analyzed: Foster the People / Sacred Hearts Club
––––––––––––––––––––––––––––––––––––––––

DR Peak RMS Duration Track
––––––––––––––––––––––––––––––––––––––––
DR4 -0.08 dB -6.16 dB 3:54 01-Pay the Man
DR4 -0.08 dB -5.44 dB 3:46 02-Doing It for the Money
DR6 -0.08 dB -7.49 dB 4:03 03-Sit Next to Me
DR4 -0.08 dB -6.47 dB 4:08 04-SHC
DR6 -0.08 dB -7.30 dB 3:45 05-I Love My Friends
DR6 -0.08 dB -9.02 dB 1:20 06-Orange Dream
DR5 -0.15 dB -6.44 dB 4:00 07-Static Space Lover
DR4 -0.08 dB -5.84 dB 3:03 08-Lotus Eater
DR6 -0.08 dB -7.16 dB 0:58 09-Time to Get Closer
DR4 -0.08 dB -7.31 dB 4:40 10-Loyal Like Sid & Nancy
DR4 -0.08 dB -5.52 dB 3:55 11-Harden the Paint
DR6 -0.08 dB -9.32 dB 4:09 12-III
––––––––––––––––––––––––––––––––––––––––

Number of tracks: 12
Official DR value: DR5

Samplerate: 44100 Hz
Channels: 2
Bits per sample: 24
Bitrate: 1554 kbps
Codec: FLAC
================================================================================


Thanks to the Original customer!