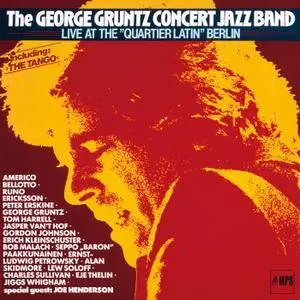 The George Gruntz Concert Jazz Band - Live at the Quartier Latin (1981/2017)
FLAC (tracks) 24-bit/88,2 kHz | Time - 94:24 minutes | 1,77 GB
Studio Master, Official Digital Download | Artwork: Front cover
One of Europe's most venerated band leaders, Swiss pianist-composer George Gruntz fronted small and large groups stacked with international jazz greats. This double album represents the 1980 version of Swiss pianist/composer Gruntz's celebrated all-star international 'Concert Jazz Band'. Over the years, each one of Gruntz's bands was stacked with a new set of jazz greats, but his aim was always to mold the band in the Ellingtonian fashion: each member was picked, not only because he fitted into the group concept; it was especially important that he contributed a unique creative color to the band's palette.
As usual, Gruntz gives the musicians plenty of space to play over his sophisticatedly rich arrangements. No One Can Explain It has an otherworldly symphonic feel, with Swedish trombonist Eje Thelin's silky smooth soloing, American Bob Malach's passionate Tenor, and Germany's E-L Petrowsky on soprano. Joe Henderson's Black Narcissus has become a jazz standard. Gordon Johnson's bass solo over an earie synth background leads into the theme. Henderson's masterful tenor is followed by Tom Harrell's mellow solo on flugelhorn. Jasper van't Hof's Ready Go! takes off with a theatrical baritone sax solo. The theatrics continue with Malach's funky tenor, Jiggs Whigham's muted trombone, and a spacy on synth'd-up keyboards. From Gruntz's World Jazz Opera, So Much We Don't Know & The Warner feature high-register trumpet master Charles Sullivan, tenor saxophone firebrand Alan Skidmore and the slashing drums of Peter Erskine. Definitely not for amateurs, Gruntz's The Tango accompanies the musicians on a hallucinatory dance, with the trumpet of Argentinian Americo Bellotto, violin, and bass trombone taking the lead. With its upbeat calypso feel, Pistrophallobus partakes in the warm breezes of the Caribbean, with Sullivan, Henderson, Petrowsky and Erskine reflecting the piece's sunny disposition. Gruntz transposes The Mazurka into the modern music world and beyond. Van't Hof, Harrell, Bellotto and Erskine have the solo honors. Gruntz's arrangement of the Strayhorn classic, Take the A-Train, sticks close to the original, highlighted by Eric Kleinschuster's swinging trombone and Skidmore's off-the-rail sax solos ending with Gruntz (r. channel) and van't Hof (l. channel) battling it out on the Rhodes piano. The critics lauded the GGCJB 1980 Spring tour with such kudos as, "Brilliant music mastering all contemporary languages", "The Highpoint of this year", and "unanimously praised" – it's well deserved.
Tracklist:
01 - No One Can Explain It
02 - Black Narcissus
03 - Ready Go!
04 - So Much We Don't Know
05 - The Tango
06 - Pistrophallobus
07 - The Mazurka
08 - Take the A-Train
Arranged by George Gruntz.
Recorded on April 7 & 8, 1980 at Quartier Latin, Berlin
Digitally Remastered.
Musicians:
George Gruntz - Grand Piano, Electric Piano, Synthesizer, Clavinet
Jasper Van't Hof - Electric Piano, Yamaha Organ, Synthesizer
Bob Malach - Alto Flute, Soprano Saxophone, Tenor Saxophone
Ernst-Ludwig Petrowsky - Clarinet, Soprano Saxophone, Alto Saxophone
Seppo Paakkunainen - Baritone Saxophone, Flute, Violin, Kantele
Alan Skidmore - Soprano Saxophone, Tenor Saxophone, Flute
Joe Henderson - Soprano Saxophone, Tenor Saxophone, Flute
Charles Sullivan - Trumpet, Flugelhorn
Tom Harrell - Trumpet, Flugelhorn
Americo Bellotto - Trumpet, Flugelhorn
Lew Soloff - Trumpet, Flugelhorn
Jiggs Whigham - Trombone
Eje Thelin - Trombone
Erich Kleinschuster - Trombone
Runo Ericksson - Bass Trombone
Gordon Johnson - Bass
Peter Erskine - Drums
Analyzed: The George Gruntz Concert Jazz Band / Live at the "Quartier Latin" Berlin
––––––––––––––––––––––––––––––––––––––––

DR Peak RMS Duration Track
––––––––––––––––––––––––––––––––––––––––
DR14 -1.83 dB -20.11 dB 10:54 01-No One Can Explain It
DR14 -1.54 dB -20.36 dB 11:47 02-Black Narcissus
DR15 -1.01 dB -20.22 dB 13:30 03-Ready Go!
DR14 -1.29 dB -18.05 dB 8:34 04-So Much We Don't Know
DR15 -1.73 dB -21.03 dB 9:38 01-The Tango
DR14 -0.66 dB -18.06 dB 15:37 02-Pistrophallobus
DR13 -1.34 dB -18.68 dB 9:03 03-The Mazurka
DR14 -1.96 dB -19.02 dB 15:22 04-Take the A-Train
––––––––––––––––––––––––––––––––––––––––

Number of tracks: 8
Official DR value: DR14

Samplerate: 88200 Hz
Channels: 2
Bits per sample: 24
Bitrate: 2686 kbps
Codec: FLAC
================================================================================


Thanks to the Original customer!