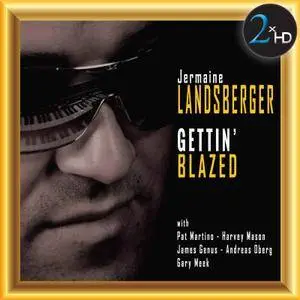 Jermaine Landsberger - Gettin' Blazed (2009/2017)
FLAC (tracks) 24-bit/44,1 kHz | Time - 50:08 minutes | 557 MB
Studio Master, Official Digital Download | Artwork: Front cover
German B-3 player Jermaine Landsberger has brought a new freshness to the jazz organ. This all star session features a rare appearance by Pat Martino. "In the evolution of any instrument, there's only a handful who are really innovative. This guy's one of them. Jermaine Landsberger is a formidable artist, a master with the flame!" – Pat Martino
German-born Hammond B-3 organist Jermaine Landsberger has assembled a strong ensemble for this recording of covers and original material, including pieces borrowed from some of his heroes or all-star bandmates. Pat Martino appears on three tracks with the rising star guitarist Andreas Öberg on the rest, drummer Harvey Mason gets back to his jazz groove roots, while Gary Meek plays saxes and flutes. The surprise participant is acoustic or electric bassist James Genus, added to the group where normally an organist plays all of the bottom-end rhythmic tones with his feet. The result is a deeply grooving, soulful, diverse, and substantive music that goes beyond what one might expect from this type of group, and it all sounds marvelous. A composition written by pianist Phil Markowitz, a title track from one of his own CDs as well as covered by Bill Evans and Toots Thielemans on their album Affinity, "Sno' Peas" is a sweet waltz played with pure authenticity, featuring the still able Martino, and Meek on tenor sax. Marcos Silva's "Brazilian People" is more modern jazz than samba or bossa nova, perfectly exhibiting the deepened low-octave sound provided when Genus and Landsberger play basslines together or in counterpoint, with Martino's playful guitar and Meek's flute soaring on top. Playing Martino's bopper "Three Base Hit," the band with Öberg sans the composer is quite comfortable speeding along and paying no mind to stop signs or commercialized affectations. Adopting a rock beat merging to bop, Mason is particularly effective driving the group during Django Reinhardt's tribute to his son, "Babik," not at all a Gypsy swing, while Horace Silver's famous "Filthy McNasty" is the perfect soul-swing vehicle meant to evoke good feelings and the essential element of fun. Where Stevie Wonder's "Another Star" is adapted into a road song à la Wes Montgomery, Richard Galliano's "Romance" is conversely the slowest of slow ballads, true to its title and composer's initial intent, with Martino beautifully leading the way. There's a cohesion in this group speaking to its members' collective experience in the studio, which clearly urges and inspires Landsberger to play very well, and above all, concisely. He's not a pyrotechnical maniac nor a purist soul sender, but is quite able to express a unique point of view throughout. His composition "Valse Manouche," with lead lines by Öberg, stands out in a 6/8 framework, not so much because it is an original but that it is played by the organist expertly and with great passion. Meek is also impressive on all of his horns, and keeps developing as a deft and lithe player who never overstates the obvious. If you are a fan of the B-3, this delightful, easily recommended effort will please you and, because of its wide-ranging repertoire, will bear repeat listenings sure to reveal more with every spin.
Tracklist:
01 - Sno' Peas
02 - Brazilian People
03 - Ballad for J
04 - Three Base Hit
05 - Valse Manouche
06 - Romance
07 - Babik
08 - Another Star
09 - Night Ballad
10 - Filthy McNasty
Arranged by Jermaine Landsberger & Kuno Schmid.
2xHD was created by producer/studio owner André Perry and audiophile sound engineer René Laflamme.
Musicians
:
Jermaine Landsberger - Hammond B-3 Organ, Rhodes Piano
Kuno Schmid - Synthesizer, Rhodes Piano
Gary Meek - Sax and Flute
Pat Martino - Guitar
Andreas Öberg - Guitar
James Genus - Bass
Harvey Mason - Drums
Analyzed: Jermaine Landsberger / Gettin' Blazed
––––––––––––––––––––––––––––––––––––––––

DR Peak RMS Duration Track
––––––––––––––––––––––––––––––––––––––––
DR10 -2.97 dB -15.22 dB 6:27 01-Sno' Peas
DR10 -2.55 dB -15.14 dB 4:26 02-Brazilian People
DR12 -3.10 dB -17.28 dB 5:43 03-Ballad for J
DR10 -2.62 dB -15.02 dB 3:29 04-Three Base Hit
DR10 -3.38 dB -15.77 dB 4:09 05-Valse Manouche
DR11 -3.63 dB -17.71 dB 6:19 06-Romance
DR11 -2.68 dB -15.93 dB 5:12 07-Babik
DR10 -2.47 dB -14.71 dB 3:34 08-Another Star
DR11 -3.26 dB -18.47 dB 6:08 09-Night Ballad
DR12 -2.34 dB -16.38 dB 4:40 10-Filthy McNasty
––––––––––––––––––––––––––––––––––––––––

Number of tracks: 10
Official DR value: DR11

Samplerate: 44100 Hz
Channels: 2
Bits per sample: 24
Bitrate: 1572 kbps
Codec: FLAC
================================================================================


Thanks to the Original customer!