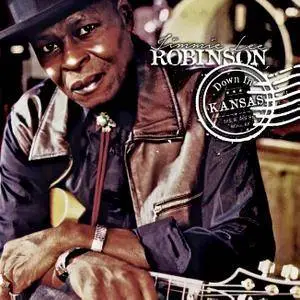 Jimmie Lee Robinson - Down In Kansas (2000/2016)
DSD64 (.dsf) 1 bit/2,8 MHz | Time - 58:43 minutes | 1,45 GB
FLAC (tracks) 24-bit/96 kHz | Time - 58:43 min | 1,23 GB
Studio Master, Official Digital Download | Artwork: Digital booklet
Killer, killer blues - Jimmie Lee's first electric blues recording for APO Records! Features an all-star backing group of Wild Child Butler, Sam Lay, Bob Stroger and Jimmy D. Lane. Long sitting in the APO vaults, this gorgeous, live to 2-track, all-analog recording finally gets its time in the sun.
Jimmie Lee Robinson was the consummate Chicago bluesman. In fact, he was more Chicago than most of his more famous peers. Unlike the vast majority of Chicago blues greats who were from the South (overwhelmingly from Mississippi) and were part of the Great Migration north to make their musical mark, Jimmie Lee was born in the Windy City, just blocks from the bustling Maxwell Street Market which would help shape not only his own musical style but the entire genre of postwar Chicago blues as well.

After spending much of his recent years performing primarily in a solo acoustic setting, in late January 2000 Jimmie Lee returned to his electrified Chicago blues roots for one last recording session at APO. Unlike much of his recent recordings which used only one or two subtle supporting instruments, this remarkable session featured the full backing of an all-star band of Chicago blues stalwarts: Wild Child Butler on harmonica, Sam Lay on drums, Bob Stroger on bass, and Jimmy D. Lane, the son of the late great Jimmy Rogers, on second guitar. The results are a highly spirited and very satisfying mix of unadulterated Chicago blues the way it used to be played. Jimmie Lee revisits some of his best material from days long gone by and also pulls out a few of his gems from more recent times. He also pays tribute to some of his past friends and musical associates like Little Walter, Jimmy Reed and Shakey Jake on such classics as "Confessin' the Blues", "Ain't that Lovin' You Baby" and "Jake's Cha Cha".
Tracklist:
01 - Jake's Cha Cha
02 - Beer Drinking Woman
03 - Times Is Gettin' Harder
04 - Twist It Baby
05 - Confessin' The Blues
06 - Little Woman You're So Sweet
07 - Lonely Traveler
08 - Peaches
09 - Just A Feeling
10 - Love Is A Hurting Game
11 - Maxwell Street
12 - Worried Life Blues
13 - Ain't That Loving You Baby
14 - I Was Wrong
15 - Down in Kansas
Produced by Chad Kassem. Engineered by David Baker.
Recorded on January 27-29, 2000 at at Blue Heaven Studios, Salina, KS.
Musicians:
Jimmie Lee Robinson - vocals, guitar
Jimmy D. Lane - guitar
George "Wild Child" Butler - harmonica
Bob Stronger - bass
Sam Lay - drums
Analyzed: Jimmie Lee Robinson / Down In Kansas
––––––––––––––––––––––––––––––––––––––––

DR Peak RMS Duration Track
––––––––––––––––––––––––––––––––––––––––
DR17 -5.12 dB -24.85 dB 2:07 01-Jake's Cha Cha
DR17 -4.68 dB -27.43 dB 3:54 02-Beer Drinking Woman
DR15 -9.82 dB -27.90 dB 3:41 03-Times Is Gettin' Harder
DR17 -8.39 dB -28.31 dB 4:15 04-Twist It Baby
DR14 -5.42 dB -23.63 dB 4:29 05-Confessin' The Blues
DR14 -8.31 dB -25.18 dB 2:52 06-Little Woman You're So Sweet
DR14 -10.24 dB -28.58 dB 3:10 07-Lonely Traveler
DR16 -6.50 dB -26.86 dB 3:39 08-Peaches
DR17 -6.07 dB -27.01 dB 3:59 09-Just A Feeling
DR17 -8.05 dB -28.65 dB 3:07 10-Love Is A Hurting Game
DR16 -9.05 dB -28.22 dB 4:53 11-Maxwell Street
DR15 -5.61 dB -23.94 dB 3:40 12-Worried Life Blues
DR17 -5.44 dB -25.22 dB 3:19 13-Ain't That Loving You Baby
DR14 -11.63 dB -29.19 dB 5:40 14-I Was Wrong
DR18 -7.88 dB -31.13 dB 5:57 15-Down in Kansas
––––––––––––––––––––––––––––––––––––––––

Number of tracks: 15
Official DR value: DR16

Samplerate: 2822400 Hz / PCM Samplerate: 176400 Hz
Channels: 2
Bits per sample: 1
Bitrate: 5645 kbps
Codec: DSD64
================================================================================


Thanks to the Original customer!