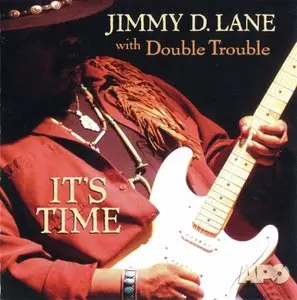 Jimmy D. Lane with Double Trouble - It's Time (2004)
SACD Rip | SACD ISO | DSD64 2.0 > 1-bit/2.8224 MHz | 53:56 minutes | Scans included | 1,78 GB
or DSD64 2.0 (from SACD-ISO to Tracks.dsf) > 1-bit/2.8224 MHz | Full Scans included | 1,62 GB
or FLAC (carefully converted & encoded to tracks) 24bit/96 kHz | Full Scans included | 1,34 GB
Recorded at Blue Heaven Studios, Salina, Kansas | Produced by Eddie Kramer | APO Records #2020 SA
Jimmy D. Lane is an American electric blues guitarist. Lane's music has been likened to that of Stevie Ray Vaughan, whose former band Double Trouble played with him on the 2004 album It's Time. Other's have compared Lane's guitar work with that of Corey Stevens, Kenny Wayne Shepherd, Jonny Lang, Jimi Hendrix and Jeff Healey.
You might call Jimmy D. Lane a natural born bluesman. His father was the legendary Jimmy Rogers, who Jimmy D. shared the stage with for many years before recording on his own. Lane can play it '50s-style, as he did with his father and on Eomot RaSun's album, but he can also turn it up and rock out with any of the finest guitar slingers. For It's Time, Lane tackles a program of original tunes (except for one), with the aid of Double Trouble, Stevie Ray Vaughan's rhythm section. These guys bring decades of experience to their blues rhythms, and know exactly how to support a player like Lane. Keyboard duties are split between Celia Ann Price on B3 and piano, and Mike Finnigan on the B3. In addition, the album was produced and engineered by the one and only Eddie Kramer, who adds crisp, clear production values and some very subtle studio tricks (check out the panning in the slide solo on "Stuck in the Middle"). As a writer, Lane sticks close to standard subject matter "What Makes People" is certainly a close cousin of Willie Dixon's "The Same Thing," but the variety of tempos and grooves and great playing all around keep the album exciting. The reggae-inflected acoustic rhythm guitar and congas give "Til I Loved You" a unique sound, and the acoustic guitar, haunting slide and general atmosphere of "Stuck in the Middle" brings Lane close to Little Axe territory. "Ain't It a Pity" adds a bit of gospel flavor, a wonderful liquid guitar tone and the slightest bit of echo on some of Lane's vocals to great effect. But most of these songs showcase Lane's considerable guitar prowess and tough playing style. Great guitar solos are in abundance all over It's Time, and Lane really gets a chance to stretch out on Elmore James' "Bleeding Heart" (yet another connection to Jimi Hendrix's legacy). Credit must also go to label/studio owner Chad Kassem for putting out blues albums that sound the way they ought to: real musicians playing real instruments together in the same space without the gloss and polish (especially on drums) that is the bane of too many modern blues albums. Any fan of serious blues guitar really needs to check out Jimmy D. Lane, and It's Time is an excellent place to start.
Tracklist:
01. What Makes People
02. 'Til I Love You
03. Half Love
04. Ain't It a Pity
05. It's Time
06. Stuck In the Middle
07. Hand On the Door
08. Bad Luck
09. My Nature
10. 24/7
11. Bleeding Heart
12. Salina
Personnel
Jimmy D. Lane - vocals, guitar; bass & drums on "9 & 12"
Tommy Shannon - bass
Chris Layton - drums
Mike Finnigan - Hammond B3 organ on "3, 6, 7 & 11"
Celia Price - Hammond B3 or piano on "1, 2, 4, 5, 8 & 10"
Larry Faucette - congas on "2"
Bill Garrison - slide guitar on "6"
Produced, Engineered & Mixed by Eddie Kramer.
Recorded at Blue Heaven Studios, Salina, Kansas.
Mastered by Kevin Gray and Steve Hoffman at AcousTech Mastering.
foobar2000 1.6.6 / Dynamic Range Meter 1.1.1

––––––––––––––––––––––––––––––––––––––––
Analyzed: Jimmy D. Lane with Double Trouble / It's Time
––––––––––––––––––––––––––––––––––––––––

DR Peak RMS Duration Track
––––––––––––––––––––––––––––––––––––––––
DR13 -5.65 dB -20.23 dB 3:31 01-What Makes People
DR12 -6.54 dB -20.12 dB 3:29 02-'Til I Love You
DR13 -5.35 dB -19.62 dB 4:01 03-Half Love
DR13 -6.32 dB -21.71 dB 4:12 04-Ain't It a Pity
DR13 -5.80 dB -19.93 dB 4:17 05-It's Time
DR12 -6.88 dB -20.95 dB 4:03 06-Stuck In the Middle
DR13 -6.08 dB -20.00 dB 4:24 07-Hand On the Door
DR13 -6.40 dB -20.21 dB 5:24 08-Bad Luck
DR13 -5.44 dB -20.47 dB 4:49 09-My Nature
DR13 -5.51 dB -20.37 dB 2:44 10-24/7
DR13 -5.03 dB -21.29 dB 10:29 11-Bleeding Heart
DR12 -7.18 dB -20.28 dB 2:32 12-Salina
––––––––––––––––––––––––––––––––––––––––

Number of tracks: 12
Official DR value: DR13

Samplerate: 2822400 Hz / PCM Samplerate: 176400 Hz
Channels: 2
Bits per sample: 1
Bitrate: 5645 kbps
Codec: DSD64


Thanks to grillbrill!
Uncompressed SACD ISO size > 2,16 GB
>