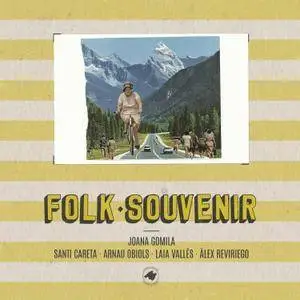 Joana Gomila - Folk Souvenir (2016)
FLAC (tracks) 24-bit/44,1 kHz | Time - 38:19 minutes | 409 MB
Studio Master, Official Digital Download | Artwork: Front cover
Joana Gomila, together with Arnau Obiols, Santi Careta, Alex Reviriego and Laia Vallès, proposes a concert that invites the audience to travel through the sounds and echoes of traditional Majorcan music, based on popular tunes from the island with wild and delicate sounds that mix with samples of country men, children, grandparents… Within the soul of these melodies, Joana Gomila searches inspiration to allow the whole band reveal their creativity. Songs of labour and sound experiments, countryside and city, silence and noise.
A veces sucede: desde rincones alejados, con trayectos dispersos, personas diferentes llegan a una conclusión idéntica, se dirigen al mismo punto sin saber nada de los otros. Esto ha sido así con Folk Souvenir, como si el disco hubiera estado esperando ser, hijo del zeitgeist y de Joana Gomila, una cantante nacida para darle la vuelta a los cánones y revivimos el interés por las esencias musicales de su isla. En Folk Souvenir, Gomila se junta con Arnau Obiols, Santi Careta, Alex Reviriego y Laia Valles, cinco almas hermanas cada una con su propia trayectoria, para reformular el cancionero popular mallorquín con una actitud fresca y las redes extendidas, dispuesta a jugar con lo que pesque, buscando en el alma de estas melodías una fuente de inspiración para hacer volar la creatividad de la banda. Grabado en directo y producido por Jaume Manresa (Antonia Font), Folk Souvenir parte de tonadas populares para tejer sonoridades salvajes y delicadas que se mezclan con samplers de payeses, niños, abuelas, grabaciones de Alan Lomax e inéditos de Joana, siempre entre un amor honesto y un espíritu decidido a experimentar, convirtiendo este disco en uno de los trabajos más atrevidos, brillantes y a la vez respetuosos que se hayan hecho nunca a partir de la música tradicional mallorquina. Porque en Folk Souvenir suena el paisaje. Suena la ciudad. Suenan las canciones de trabajo, romances, jotas y juegos. Suenan las reflexiones de Rafel Ginard. Suena la memoria. Sonamos un poco todos, quizás sin escucharnos. Folk Souvenir es el pueblo y el recuerdo. Es el canto y es el rezo. Es el folk y el free jazz. Es la necesidad de buscarnos. Y quizás no encontrarnos nunca.
Tracklist:
01 - Preludi de Sa Ximbomba
02 - So de Pastera
03 - Ningú Té Acta de Vida
04 - Tonada Des Segar
05 - Ses Transformacions
06 - Tonada Des Ventar Damunt S'era
07 - Cançó Des Desbarats
08 - Tonada de Sa Son
09 - Al·lotes Colliu
Analyzed: Joana Gomila Folk Souvenir / Folk Souvenir
––––––––––––––––––––––––––––––––––––––––

DR Peak RMS Duration Track
––––––––––––––––––––––––––––––––––––––––
DR8 -0.41 dB -11.98 dB 3:51 01-Preludi de Sa Ximbomba
DR8 -0.20 dB -9.87 dB 3:09 02-So de Pastera
DR6 -0.20 dB -8.54 dB 4:52 03-Ningú Té Acta de Vida
DR7 -1.03 dB -12.18 dB 4:21 04-Tonada Des Segar
DR6 -0.20 dB -7.88 dB 2:42 05-Ses Transformacions
DR7 -0.98 dB -11.19 dB 3:53 06-Tonada Des Ventar Damunt S'era
DR9 -0.06 dB -12.75 dB 3:48 07-Cançó Des Desbarats
DR9 -1.55 dB -15.71 dB 5:25 08-Tonada de Sa Son
DR8 -0.94 dB -15.22 dB 6:17 09-Al·lotes Colliu
––––––––––––––––––––––––––––––––––––––––

Number of tracks: 9
Official DR value: DR8

Samplerate: 44100 Hz
Channels: 2
Bits per sample: 24
Bitrate: 1133 kbps
Codec: FLAC
================================================================================


Thanks to the Original customer!