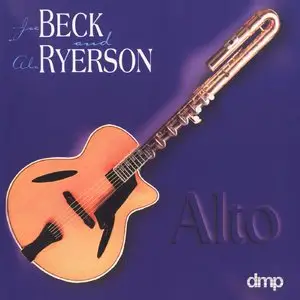 Joe Beck and Ali Ryerson - Alto (1997) [Reissue 1999]
PS3 Rip | SACD ISO | DSD64 2.0 > 1-bit/2.8224 MHz | 51:52 minutes | Scans included | 1,53 GB
or DSD64 Stereo (from SACD-ISO to Tracks.dsf) > 1 bit/2,8 MHz | Scans included | 1,39 GB
or FLAC (carefully converted & encoded to tracks) 24bit/88,2 kHz | Scans included | 1,01 GB
The renowned guitarist Joe Beck together with premier jazz flutist Ali Ryerson have teamed to create a remarkably accessible new sound by pairing alto flute & a unique new guitar approach with compelling arrangements that emphasize beauty & melody. Percussionist Steve Davis joins Beck & Ryerson on half of the pop, jazz, & folk standards. Alto is the 1st commercial recording captured with Sony & Philip's Direct Stream Digital (DSD) technology!
Ali Ryerson is a jazz flutist. She has the ideal combination of classical technique & jazz sensibilities. This album makes another perfect combination: alto flute & guitar. Of all Ali Ryerson's releases, this is my favorite. It's probably because the tunes are standards, but the mellow tone of the alto flute & the blend with the guitar's sound make it especially easy on the ears.
Alto features Joe Beck on alto guitar (3 pairs of strings in 3 separate registers), Ali Ryerson on alto flute, & Steve Davis on very tasteful, unobtrusive percussion. The tunes are mostly standards, but they are given new life by the very nice sound these instruments make together. It's quiet, but it's fiery. There's a definite gentleness, but it's never boring. Beck's been around awhile. His experience runs the gamut. I own some fusion-style albums from the '70s. I've heard some brilliant studio work he's done (you really have to hear his blues solo on a version of "Kansas City" by Libby Titus in the '70s – just incredible!). He's also noted for being the first guitarist to work with Miles Davis. Ryerson's throaty alto is just gorgeous. Whether beautifully stating melodies or adding a bit to the original flavor, she never falters. I can't recommend this enough. It's 1 of those albums that prove simple is best. I don't mean simple playing. I mean 3 people in a room doing a terrific job on some great tunes.
Tracklist:
01. Ode To Billy Joe
02. 'Round Midnight
03. Joy Spring
04. Mother's Day
05. Willow Weep For Me
06. Waiting Is The Hardest Part
07. Summertime
08. Scarborough Fair / Norwegian Wood
09. Authumn Leaves
10. Cuidado
11. Song For My Father
12. What Would I Do Without You?
13. Billie's Bounce
14. We Will Meet Again
Personnel
Joe Beck - guitar
Ali Ryerson - alto flute
Steve Davis - percussion
Recorded by Tom Jung on July 16 & 17 at Ambient Recording, Stamford, CT.
Pure DSD Recording.
foobar2000 1.6.6 / Dynamic Range Meter 1.1.1

––––––––––––––––––––––––––––––––––––––––
Analyzed: Joe Beck and Ali Ryerson / Alto
––––––––––––––––––––––––––––––––––––––––

DR Peak RMS Duration Track
––––––––––––––––––––––––––––––––––––––––
DR13 -5.60 dB -22.22 dB 4:39 01-Ode To Billy Joe
DR12 -6.26 dB -23.17 dB 3:11 02-'Round Midnight
DR13 -5.96 dB -21.57 dB 3:08 03-Joy Spring
DR13 -7.37 dB -24.82 dB 4:10 04-Mother's Day
DR14 -6.18 dB -23.98 dB 2:49 05-Willow Weep For Me
DR16 -5.60 dB -25.17 dB 4:31 06-Waiting Is The Hardest Part
DR13 -6.06 dB -22.40 dB 3:42 07-Summertime
DR18 -1.39 dB -26.83 dB 4:50 08-Scarborough Fair / Norwegian Wood
DR12 -7.12 dB -22.59 dB 3:30 09-Authumn Leaves
DR17 -1.33 dB -25.56 dB 3:51 10-Cuidado
DR16 -5.37 dB -24.83 dB 4:11 11-Song For My Father
DR12 -9.18 dB -25.58 dB 2:57 12-What Would I Do Without You?
DR17 -0.05 dB -24.66 dB 3:29 13-Billie's Bounce
DR12 -7.32 dB -23.76 dB 2:54 14-We Will Meet Again
––––––––––––––––––––––––––––––––––––––––

Number of tracks: 14
Official DR value: DR14

Samplerate: 2822400 Hz / PCM Samplerate: 176400 Hz
Channels: 2
Bits per sample: 1
Bitrate: 5645 kbps
Codec: DSD64


Thanks to ManWhoCan!
Uncompressed SACD ISO size > 2,08 GB
>