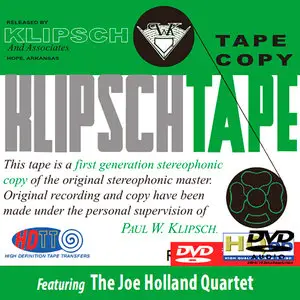 The Joe Holland Quartet - Klipsch Tape Project, Vol.2 (1955,1957/2013)
DSD128 (.dsf) 1 bit/5,64 MHz | Time - 62:13 minutes | 4,3 GB
FLAC (tracks) 24-bit/192 kHz | Time - 62:13 minutes | 2,81 GB
Studio Master, Official Digital Download | Artwork: Digital booklet
In July of 1955 when the music in this album was recorded, none of the principals concerned had any idea that the tapes would one day find themselves on the market. The purpose was merely to record material suitable for demonstrations. As a result the performers were under no strain whatever, and the playing clearly shows a spontaneity and vitality that one seldom hears outside of live and informal performances. In keeping with the nature of the music, intimate microphone placement was employed with the result that certain extra-musical sounds are clearly audible at times.
The usual practice of recording engineers is to edit out sounds of this sort, replacing them with portions of later "takes" of the same piece in which "errors" of this sort do not occur. While editing of this sort might result in a note perfect performance, it is in no sense a natural one. Since we believe that these sounds enhance rather than detract from the performance, and, since they are actually a part of what did take place, we wouldn't think of cutting them out. To be specific, the drummer's suspension seat, as he bobs up and down on it, emits a sometimes audible squeak if one knows what to listen for. In addition there are breathing sounds and occasional key clicks from the clarinet as well as a few random subdued comments from the players. And perhapsthe best of all occurs in the introduction of one of the numbers where one player, somewhat in doubt as to what the piece is, looks around quizzically and says, "What is this, Blue Moon?" (Whereupon one of his fellows nods affirmatively telling him that it is Blue Moon).
Tracklist:
01 - Yesterdays
02 - C-Jam Blues
03 - Night And Day
04 - Blue Moon
05 - I Think You're Wonderful
06 - Memories Of You
07 - Fine And Dandy
08 - Indiana
09 - Pennies From Heaven
10 - Lady Is A Tramp
11 - Holland's Holiday Drum Solo
12 - Lullaby In Rhythm
13 - There's A Small Hotel [Alternate]
14 - There's A Small Hotel
15 - There's No You
16 - September Song
17 - Jazz Man Blues
18 - I Got It Bad And It Ain't Good
19 - Disc Jockey Jump
Recording Info:
All selections recorded by Paul W. Klipsch
Tracks 1-11 recorded June 19th, 1955 / Tracks 12-19 recorded March 10, 1957
Released With The Cooperation and Permission of the Klipsch Group, Inc.
Musicians:
Joe Holland - drums
Fred Rogers - clarinet
Bill Wallace - piano
Howard Ward - bass
Source used for Transfer: Original 15ips 2-track Master Tapes.
Transfered to digital using a Studer 810, Aria Tape Pre-amp, KORG MR2000.
Originally mastered to Pure DSD Transfer - No PCM Editing.
Analyzed: The Joe Holland Quartet / Klipsch Tape Project: The Joe Holland Quartet
––––––––––––––––––––––––––––––––––––––––

DR Peak RMS Duration Track
––––––––––––––––––––––––––––––––––––––––
DR13 -11.20 dB -29.99 dB 2:46 01-Yesterdays
DR13 -8.23 dB -24.39 dB 2:43 02-C-Jam Blues
DR15 -8.26 dB -28.23 dB 4:17 03-Night And Day
DR13 -13.27 dB -29.66 dB 2:33 04-Blue Moon
DR13 -8.47 dB -26.51 dB 2:52 05-I Think You're Wonderful
DR13 -14.30 dB -31.39 dB 2:33 06-Memories Of You
DR12 -8.86 dB -24.45 dB 1:22 07-Fine And Dandy
DR13 -7.89 dB -25.10 dB 2:16 08-Indiana
DR15 -12.04 dB -30.72 dB 2:54 09-Pennies From Heaven
DR14 -6.50 dB -25.43 dB 4:45 10-Lady Is A Tramp
DR12 -7.15 dB -23.98 dB 6:40 11-Holland's Holiday Drum Solo
DR14 -6.20 dB -25.46 dB 2:35 12-Lullaby In Rhythm
DR15 -10.02 dB -29.13 dB 3:14 13-There's A Small Hotel [Alternate]
DR14 -13.43 dB -30.37 dB 2:59 14-There's A Small Hotel
DR13 -13.47 dB -30.21 dB 3:31 15-There's No You
DR14 -14.29 dB -31.93 dB 3:44 16-September Song
DR12 -7.04 dB -24.33 dB 2:41 17-Jazz Man Blues
DR14 -15.87 dB -34.28 dB 3:44 18-I Got It Bad And It Ain't Good
DR14 -6.67 dB -25.04 dB 4:03 19-Disc Jockey Jump
––––––––––––––––––––––––––––––––––––––––

Number of tracks: 19
Official DR value: DR14

Samplerate: 5644800 Hz / PCM Samplerate: 176400 Hz
Channels: 2
Bits per sample: 1
Bitrate: 11290 kbps
Codec: DSD128
================================================================================


Thanks to the Original customer!