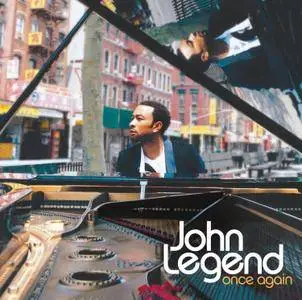 John Legend - Once Again (2006/2013)
FLAC (tracks) 24-bit/44,1 kHz | Time - 59:09 minutes | 703 MB
Studio Master, Official Digital Download | Artwork: Front cover
"Once Again", the much-anticipated second solo album from the multi-platinum Grammy-winning artist John Legend. He has worked with a great list of producers and co-writers, including Kanye West, will. I. am, Raphael Saadiq, Craig Street, Sa-Ra, Eric Hudson, Devo Springsteen, Dave Tozer and Avenue. There is a special guest appearance from Mary J. Blige. Though he had worked with Blige before, Legend said he got to know her better this time around. The album has a range of influences, from soul to hip-hop to classic pop to alternative.

Get Lifted netted John Legend a major hit ("Ordinary People") that will be heard on adult contemporary stations and throwback-oriented programs as long as they exist, platinum status, and three Grammy titles – including the potential kiss of death that is Best New Artist. If Legend hadn't linked up with Kanye West or any other connected industry figure, he'd probably be well into a string of independent albums and would likely have a fanatical cult following through persistent touring. It doesn't take much exposure to his songs to sense this alternate scenario. No one can deny that Legend has had considerable help from his collaborators, and he continues to get that support this time out – there's West, will.i.am, Sa-Ra, Raphael Saadiq, Plant Life's Jack Splash, and a massive crew of session musicians, but it's already evident that Legend only needs a piano to get by. Even with its many producers, Once Again is much more focused than Get Lifted, and the quality of its songs is equally high. Legend's obviously doing everything in his power to not fall off. He pours so much of himself into each one of these songs, whether they're about flings with groupies or breakups with long-term girlfriends, that the album can begin to wear around the eighth track. The songs flit back and forth between easygoing, butterflies-of-love-type sentiments and deep drama, with both sides expressed through similar levels of intensity. As much as anyone else, Legend would benefit from the recent (and generally welcomed) return of the 40-minute R&B album. If the album is missing something, it's a snappy, unapologetically swaggering track in the vein of Get Lifted's "Used to Love U," or perhaps a song or two that doesn't seem intent on displaying impressive musicality, but there are enough undeniably bright spots to please those who have already been won over. While Once Again might not get as much attention as its predecessor, it's more assured and sounds nothing like an experiment to see what sticks. Legend now knows exactly where he fits, and he's not holding back in the least.
Tracklist:
01 - Save Room
02 - Heaven
03 - Stereo
04 - Show Me
05 - Each Day Gets Better
06 - King & Queen
07 - P.D.A. (We Just Don't Care)
08 - Slow Dance
09 - Again
10 - Maxine
11 - Where Did My Baby Go
12 - Maxine's Interlude
13 - Another Again
14 - Coming Home
Analyzed: John Legend / Once Again
––––––––––––––––––––––––––––––––––––––––

DR Peak RMS Duration Track
––––––––––––––––––––––––––––––––––––––––
DR7 -0.02 dB -7.75 dB 3:56 01-Save Room
DR7 -0.02 dB -7.67 dB 3:36 02-Heaven
DR7 -0.02 dB -8.39 dB 4:11 03-Stereo
DR8 -0.02 dB -8.93 dB 4:58 04-Show Me
DR7 -0.02 dB -8.55 dB 3:48 05-Each Day Gets Better
DR7 -0.02 dB -8.25 dB 3:48 06-King & Queen
DR8 -0.02 dB -9.30 dB 4:39 07-P.D.A. (We Just Don't Care)
DR7 -0.02 dB -8.29 dB 4:43 08-Slow Dance
DR10 -0.01 dB -13.45 dB 5:02 09-Again
DR7 -0.02 dB -8.23 dB 4:27 10-Maxine
DR10 -0.01 dB -11.53 dB 5:03 11-Where Did My Baby Go
DR7 -0.02 dB -8.83 dB 1:50 12-Maxine's Interlude
DR7 -0.02 dB -8.62 dB 4:02 13-Another Again
DR7 -0.02 dB -10.75 dB 5:06 14-Coming Home
––––––––––––––––––––––––––––––––––––––––

Number of tracks: 14
Official DR value: DR8

Samplerate: 44100 Hz
Channels: 2
Bits per sample: 24
Bitrate: 1471 kbps
Codec: FLAC
================================================================================


Thanks to the Original customer!