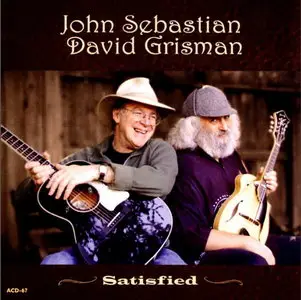 John Sebastian & David Grisman - Satisfied (2007)
FLAC (tracks) 24 bit/96 kHz | Time - 55:37 minutes | 1,09 GB
Studio Master, Official Digital Download | Artwork: Digital Booklet
Their musical history dates back to college days at New York University circa 1963 when the Greenwich Village folk revival was in its' heyday. They made their first recording together as members of the Even Dozen Jug Band with future luminaries Maria Muldaur, Stefan Grossman and others. The rest, of course is musical history. John Sebastian became lead singer and songwriter of one of America's most popular bands - the Lovin' Spoonful and David Grisman spearheaded an acoustic music revolution with his genre-defying "Dawg" music. Finally, after a 40+ year hiatus, their paths crossed again at a benefit concert in Mill Valley, California. After this mutually enjoyable evening of spontaneous music, it became obvious that they would continue collaborating and the result is Satisfied - a stunning collection of acoustic duets featuring traditional folk tunes, blues, classy instrumentals and originals by these two legendary masters.
Since acoustic and roots music have always formed the base of their respective musics, it seems natural for John Sebastian and David Grisman to cut an album for Acoustic Disc (Grisman's label). The pairing is similar to that of Dylan and Happy Traum way back in 1971 for several nice acoustic duos at the end of Bob Dylan's Greatest Hits, Vol. 2. In both instances, one gains the impression of two friends jamming just for the fun of it, a back-porch authenticity re-created in the studio. The difference, however, says a thing or two about just what it means when friends get together and jam. On the Dylan/Traum sides, the overall quality is quite professional, especially when comparing their version of "You Ain't Goin' Nowhere" to the one recorded with the Band for The Basement Tapes. The newer version, then, may sound off-the-cuff, but Dylan and Traum have worked hard to create a spry, clean take. Sebastian and Grisman are also professional, though their performance level never reaches that of Dylan and Traum's. Sebastian is in good voice, and the acoustic interplay between his guitar and Grisman's mandolin is nice; furthermore, the whole affair is relaxed, much like Grisman's previous effort with John Hartford and Mike Seeger on Retrograss. As enjoyable as it is to listen to two old friends get together and jam, though, Satisfied is too laid-back, with a number of so-so songs mixed in with classics, and some songs overstay their welcome. The entire project would have been strengthened by a better batch of songs and tighter performances. Fans of Sebastian and Grisman will undoubtedly want to tune in to see what these two old pros have been up to, even if Satisfied does have the sound and feel of a home recording.
Tracklist:
01 - I'm Satisfied
02 - Strings Of Your Heart
03 - EMD
04 - Deep Purple
05 - John Henry
06 - Walk Right Back
07 - Passing Fantasy
08 - Coffee Blues
09 - Dawg's Waltz
10 - Lonely One In This Town
11 - It's Not Time Now
12 - Harmandola Blues
13 - Coconut Grove
14 - Jug Band Waltz
Analyzed: John Sebastian / David Grisman / Satisfied
––––––––––––––––––––––––––––––––––––––––

DR Peak RMS Duration Track
––––––––––––––––––––––––––––––––––––––––
DR14 -1.34 dB -19.73 dB 2:44 01-I'm Satisfied
DR12 -2.16 dB -17.28 dB 3:26 02-Strings Of Your Heart
DR14 -1.00 dB -18.01 dB 4:05 03-EMD
DR13 -1.16 dB -19.21 dB 4:42 04-Deep Purple
DR14 -1.07 dB -19.10 dB 5:06 05-John Henry
DR16 -1.33 dB -21.10 dB 4:48 06-Walk Right Back
DR16 -0.91 dB -20.92 dB 4:13 07-Passing Fantasy
DR14 -0.20 dB -18.50 dB 2:55 08-Coffee Blues
DR15 -0.56 dB -20.29 dB 4:23 09-Dawg's Waltz
DR15 -0.79 dB -19.46 dB 3:59 10-Lonely One In This Town
DR15 -1.81 dB -19.45 dB 3:22 11-It's Not Time Now
DR13 -1.63 dB -20.12 dB 2:40 12-Harmandola Blues
DR15 -0.55 dB -21.01 dB 5:18 13-Coconut Grove
DR15 -0.57 dB -20.77 dB 3:56 14-Jug Band Waltz
––––––––––––––––––––––––––––––––––––––––

Number of tracks: 14
Official DR value: DR14

Samplerate: 96000 Hz
Channels: 2
Bits per sample: 24
Bitrate: 2313 kbps
Codec: FLAC
================================================================================


Thanks to the Original customer!