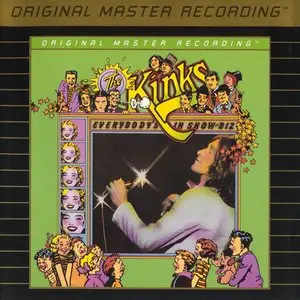 The Kinks - Everybody's In Show-Biz (1972) [MFSL 2003]
PS3 Rip | SACD ISO | DSD64 2.0 > 1-bit/2.8224 MHz | 75:44 minutes | Scans included | 2,37 GB
or DSD64 2.0 (from SACD-ISO to Tracks.dsf) > 1-bit/2.8224 MHz | Full Scans included | 2,11 GB
or FLAC (carefully converted & encoded to tracks) 24bit/88,2 kHz | Full Scans included | 1,62 GB
Mobile Fidelity Sound Lab # UDSACD 2010
Everybody's in Show-Biz is the eleventh studio album released by the English rock group the Kinks, released in 1972. A double album, the first disc features studio recordings, while the second disc documents a two-night Carnegie Hall stand. Everybody's in Show-Biz is often seen by fans as a transition album for the Kinks, marking the change in Ray Davies' songwriting style toward more theatrical, campy and vaudevillian work, as evidenced by the rock-opera concept albums that followed it.
Everybody's in Show-Biz is a double album with one record devoted to stories from the road and another devoted to songs from the road. It could be labeled "the drunkest album ever made," without a trace of hyperbole, since this is a charmingly loose, rowdy, silly record. It comes through strongest on the live record, of course, as it's filled with Ray Davies' notoriously campy vaudevellian routine (dig the impromptu "Banana Boat Song" that leads into "Skin & Bone," or the rollicking "Baby Face"). Still, the live record is just a bonus, no matter how fun it is, since the travelogue of the first record is where the heart of Everybody's in Show-Biz lies. Davies views the road as monotony – an endless stream of identical hotels, drunken sleep, anonymous towns, and really, really bad meals (at least three songs are about food, or have food metaphors). There's no sex on the album, at all, not even on Dave Davies' contribution, "You Don't Know My Name." Some of this is quite funny – not just Ray's trademark wit, but musical jokes like the woozy beginning of "Unreal Reality" or the unbearably tongue-in-cheek "Look a Little on the Sunnyside" – but there's a real sense of melancholy running throughout the record, most notably on the album's one unqualified masterpiece, "Celluloid Heroes." By the time it gets there, anyone that's not a hardcore fan may have turned it off. Why? Because this album is where Ray begins indulging his eccentricities, a move that only solidified the Kinks' status as a cult act. There are enough quirks to alienate even fans of their late-'60s masterpieces, but those very things make Everybody's in Show-Biz an easy album for those cultists to hold dear to their hearts.
Tracklist:
01. Here Comes Yet Another Day
02. Maximum Consumption
03. Unreal Reality
04. Hot Potatoes
05. Sitting In My Hotel
06. Motorway
07. You Don't Know My Name
08. Supersonic Rocket Ship
09. Look A Little On The Sunnyside
10. Celluloid Heroes
11. Top Of The Pops
12. Brainwashed
13. Mr. Wonderful
14. Acute Schizophrenia Paranoia Blues
15. Holiday
16. Muswell Hillbilly
17. Alcohol
18. Banana Boat Song
19. Skin & Bone
20. Baby Face
21. Lola
22. Till The End Of The Day
23. She's Bought A Hat Like Princess Marina
Mastered by Shawn R. Britton at Mobile Fidelity Sound Lab, Sebastopol, CA.
foobar2000 1.6.7 / Dynamic Range Meter 1.1.1

––––––––––––––––––––––––––––––––––––––––
Analyzed: The Kinks / Everybody's In Show-Biz
––––––––––––––––––––––––––––––––––––––––

DR Peak RMS Duration Track
––––––––––––––––––––––––––––––––––––––––
DR11 -3.42 dB -16.60 dB 3:52 01-Here Comes Yet Another Day
DR13 -3.19 dB -17.71 dB 4:03 02-Maximum Consumption
DR12 -3.42 dB -17.42 dB 3:32 03-Unreal Reality
DR11 -3.55 dB -16.72 dB 3:27 04-Hot Potatoes
DR11 -3.69 dB -19.30 dB 3:21 05-Sitting In My Hotel
DR11 -3.60 dB -16.57 dB 3:28 06-Motorway
DR10 -3.28 dB -15.55 dB 2:35 07-You Don't Know My Name
DR12 -3.22 dB -18.56 dB 3:30 08-Supersonic Rocket Ship
DR14 -3.24 dB -19.22 dB 2:47 09-Look A Little On The Sunnyside
DR10 -3.35 dB -17.11 dB 6:19 10-Celluloid Heroes
DR11 -2.90 dB -16.88 dB 4:33 11-Top Of The Pops
DR11 -3.14 dB -16.42 dB 2:58 12-Brainwashed
DR12 -5.66 dB -22.73 dB 0:43 13-Mr. Wonderful
DR11 -3.77 dB -16.75 dB 3:59 14-Acute Schizophrenia Paranoia Blues
DR11 -2.99 dB -18.71 dB 3:54 15-Holiday
DR10 -3.44 dB -16.21 dB 3:09 16-Muswell Hillbilly
DR11 -3.26 dB -17.59 dB 5:19 17-Alcohol
DR12 -4.86 dB -22.12 dB 1:42 18-Banana Boat Song
DR11 -3.39 dB -16.89 dB 3:54 19-Skin & Bone
DR12 -3.67 dB -17.72 dB 1:54 20-Baby Face
DR12 -3.33 dB -19.06 dB 1:40 21-Lola
DR11 -2.15 dB -17.57 dB 2:00 22-Till The End Of The Day
DR10 -3.70 dB -18.11 dB 3:06 23-She's Bought A Hat Like Princess Marina
––––––––––––––––––––––––––––––––––––––––

Number of tracks: 23
Official DR value: DR11

Samplerate: 2822400 Hz / PCM Samplerate: 176400 Hz
Channels: 2
Bits per sample: 1
Bitrate: 5645 kbps
Codec: DSD64


Thanks to PS³SACD!
Uncompressed SACD ISO size > 3,04 GB
>