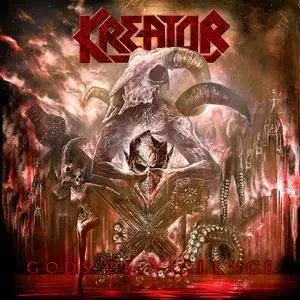 Kreator - Gods Of Violence (2017)
FLAC (tracks) 24-bit/48 kHz | Time - 64:17 minutes | 1,71 GB
Studio Master, Official Digital Download | Artwork: Front cover
"Gods of Violence" is the fourteenth studio album by the German thrash metal band Kreator. It is the band's first studio album in almost five years since 2012, marking the longest gap between two studio albums in their career. On this new studio album, thrash legends Kreator give us more of the same jackhammer style they built the band's name on only without quite as much personality or edge.
There is plenty of thrash metal out there; too much in fact, as it's become the most overpopulated zone of heavy music. That said, there's thrash and then there's Kreator. Mille Petrozza (vocals, guitars, lyrics) and Jürgen "Ventor" Reil (drums) have always sought to reinvent the wheel while remaining true to their roots. Despite lineup changes – the band currently includes Sami Yli–Sirniö on guitars and bassist Christian "Speesy" Giesler – they've always managed to inject vitality, personality, and innovation to this beloved yet musically restricted terrain.

Five years was a long time to wait for a new Kreator album. Given the manic energy of 2016's Violence Unleashed EP, which whet fans' appetites for more of the good stuff, it seemed even longer. Produced by Jens Bogren, Gods of Violence is the album the other lineage thrash acts could never make again. It's impossible to conceive of Metallica or Slayer pulling off anything this intense or imaginative. The 11-song set belongs in the line that began with 2001's Violent Revolution and continued through 2005's Enemy of God and 2012's Phantom Antichrist. (The 2009 release Hordes of Chaos, recorded Live at Wacken 2014 in a single studio setting, is the only outlier.) The music here is almost a companion to Enemy of God as it balances its deadly assault with melodic death metal.

Appropriately, it commences with an anthem. "Apocalypticon," an intro complete with martial drums, a military choir, and razored guitars, with orchestral work from Fleshgod Apocalypse's Francesco Paoli and Francesco Ferrini, just stops seemingly in the middle and gives way to the brutal "World War Now," with its triple-time chug and churn. Petrozza's riffs are as meaty and physical as ever. His vocals ride just enough above the mix to discern his hostile lyrics. In the refrain, the pace increases. First single "Satan Is Real" is all swinging groove and knotty twin-guitar hell, but "Totalitarian Terror" deLive at Wacken 2014rs one of the catchiest and most punishing riffs the band has ever laid down. "Lion with Eagle Wings" nods at both classic Judas Priest and later NWOBHM with power metal asides and soaring choruses, all while waving the thrash flag high. Closer "Death Becomes My Light" is a gallop worthy of the entire price of entry all by itself. The way melody and guitar harmonies and riffs are threaded through these tracks is admirable. No. It's killer. All told, Gods of Violence proves well worth the wait. Kreator proves – yet again – that the kids still have a lot to learn when it comes to keeping thrash viable.
Tracklist:
01 - Apocalypticon
02 - World War Now
03 - Satan Is Real
04 - Totalitarian Terror
05 - Gods Of Violence
06 - Army Of Storms
07 - Hail To The Hordes
08 - Lion With Eagle Wings
09 - Fallen Brother
10 - Side By Side
11 - Death Becomes My Light
12 - Mars Mantra (Live at Wacken 2014)
13 - Phantom Antichrist (Live at Wacken 2014)
14 - From Flood (Live at Wacken 2014)
15 - Warcurse (Live at Wacken 2014)
16 - Endless Pain (Live at Wacken 2014)
17 - Pleasure To Kill (Live at Wacken 2014)
18 - Hordes Of Chaos (Live at Wacken 2014)
19 - Phobia (Live at Wacken 2014)
20 - Enemy Of God (Live at Wacken 2014)
21 - Civilisation Collapse (Live at Wacken 2014)
22 - The Patriarch (Live at Wacken 2014)
23 - Violent Revolution (Live at Wacken 2014)
24 - United In Hate (Live at Wacken 2014)
25 - Flag Of Hate / Tormentor (Live at Wacken 2014)
Produced by Jens Bogren.
Musicians:
Mille Petrozza - vocals, guitar
Sami Yli-Sirniö - guitar
Christian Giesler - bass
Ventor - drums
Analyzed: Kreator / Gods Of Violence
––––––––––––––––––––––––––––––––––––––––

DR Peak RMS Duration Track
––––––––––––––––––––––––––––––––––––––––
DR5 -0.60 dB -8.05 dB 1:07 01-Apocalypticon
DR5 -0.60 dB -6.66 dB 4:28 02-World War Now
DR5 -0.60 dB -6.96 dB 4:38 03-Satan Is Real
DR5 -0.60 dB -6.68 dB 4:45 04-Totalitarian Terror
DR5 -0.60 dB -7.43 dB 5:51 05-Gods Of Violence
DR6 -0.60 dB -7.16 dB 5:10 06-Army Of Storms
DR5 -0.60 dB -6.48 dB 4:02 07-Hail To The Hordes
DR5 -0.60 dB -6.58 dB 5:23 08-Lion With Eagle Wings
DR5 -0.60 dB -6.55 dB 4:37 09-Fallen Brother
DR5 -0.60 dB -7.01 dB 4:20 10-Side By Side
DR6 -0.60 dB -7.86 dB 7:27 11-Death Becomes My Light
DR11 -0.73 dB -12.72 dB 1:20 12-Mars Mantra (live)
DR6 -0.75 dB -7.81 dB 4:38 13-Phantom Antichrist (live)
DR6 -0.66 dB -8.63 dB 6:33 14-From Flood (live)
DR6 -0.74 dB -8.88 dB 6:27 15-Warcurse (live)
DR7 -0.80 dB -8.42 dB 3:25 16-Endless Pain (live)
DR6 -0.82 dB -8.39 dB 4:13 17-Pleasure To Kill (live)
DR6 -0.81 dB -8.35 dB 5:42 18-Hordes Of Chaos (live)
DR7 -0.76 dB -10.66 dB 5:16 19-Phobia (live)
DR6 -0.78 dB -8.21 dB 6:02 20-Enemy Of God (live)
DR6 -0.79 dB -8.02 dB 4:11 21-Civilisation Collapse (live)
DR12 -0.93 dB -14.73 dB 0:52 22-The Patriarch (live)
DR6 -0.83 dB -8.83 dB 6:54 23-Violent Revolution (live)
DR6 -0.79 dB -10.36 dB 8:08 24-United In Hate (live)
DR6 -0.71 dB -8.18 dB 7:20 25-Flag Of Hate & Tormentor (live)
––––––––––––––––––––––––––––––––––––––––

Number of tracks: 25
Official DR value: DR6

Samplerate: 48000 Hz
Channels: 2
Bits per sample: 24
Bitrate: 1884 kbps
Codec: FLAC
================================================================================


Thanks to the Original customer!