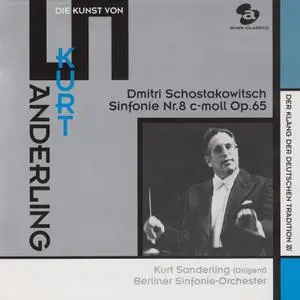 Kurt Sanderling, Berliner Sinfonia-Orchester - Shostakovich: Symphony 8 (1977/1992) [Japan 2004]
SACD Rip | SACD ISO | DSD64 2.0 > 1-bit/2.8224 MHz | 66:26 minutes | Front/Rear Covers | 1,85 GB
or DSD64 2.0 Stereo (from SACD-ISO to Tracks.dsf) > 1-bit/2.8224 MHz | Front/Rear Covers | 1,62 GB
or FLAC Stereo (carefully converted & encoded to tracks) 24bit/96 kHz | Front/Raar Covers | 1,4 GB
Kurt Sanderling's representation on disc is patchy at best. Apart from a rigorous, rather dour Beethoven cycle made for EMI in London in 1980 and a Dresden Brahms cycle from the early 1970s, few of his important stereo recordings have been distributed widely in the UK. His 1993's Shostakovich Fifteenth was disappointingly bland, seemingly preoccupied with finer points of detail, and it certainly failed to impress DJF. Some of these tendencies are present in the Eighth, recorded in 1976 with his own orchestra in East Berlin. Again, it is massively slow and studied - only Dmitri Shostakovich is more deliberate - but the fires burn that much more brightly.
Some background may be helpful. After many years in the Soviet Union working primarily with the Leningrad Philharmonic, Sanderling returned to (East) Berlin in 1960 and until 1977 served as General Music Director of the Berlin Symphony Orchestra—not to be confused with the Berlin Staatskapelle (the orchestra of the state opera) or the Berlin Radio Symphony Orchestra (of West German Radio). While Sanderling's orchestra may lack the tonal refinement of adjacent Western rivals, it responds to his direction with impressive commitment. Lest everything sounds too carefully rehearsed, the occasionally raw winds cannot help but sound spontaneous and indeed authentic in this repertoire.
Symphony No. 8: The lengthy opening Adagio (27 minutes in Sanderling's performance; though still more than a minute under Wigglesworth's interminable version on BIS 1483) is extremely bleak, with great attention paid to clarity and the seamless ebb and flow of despondent melody in the first half. The climactic portion of the movement that follows is hardly fast, but it comes across as furious in its energy after the rest, and violently painful in its vicious assault. The rest fades back into elegy, and at last, rest. It is one of the finest things in this collection. The first of the two scherzos is a true allegretto (something Sanderling never rushes), giving a sense of relentlessness to its march tempo. Instrumental entries are well articulated. The second scherzo is slower than its allegro marking, but that provides time to spend on phrasing. The result is a brutal, minatory machine that returns to the level of violence depicted in the opening movement's harrowing center. The passacaglia that follows is a gray, featureless landscape without hope, suspended in time. The Berlin SO strings here give one of their best performances in the series. The finale's gradual transition from nightmare to light is handled with a delicacy reminiscent of Jordania/Russian Federal Orchestra (on Albany 9932; it's worth noting that Jordania was a much later assistant to Mravinsky). A kind of self-deprecating humor also makes itself felt—in particular, the nobly aspiring waltz theme promulgated by the cello, interrupted by a wonderfully off-kilter bassoon. The ending is luminous, without quite laying to rest all the horrors that have passed. Definitely one of the best versions of this symphony that I've heard.
Tracklist:
01. Shostakovich: Symphony No. 8 in C-Moll Op.65 - I. Adagio
02. Shostakovich: Symphony No. 8 in C-Moll Op.65 - II. Allegretto
03. Shostakovich: Symphony No. 8 in C-Moll Op.65 - III. Allegro non troppo
04. Shostakovich: Symphony No. 8 in C-Moll Op.65 - IV. Largo
05. Shostakovich: Symphony No. 8 in C-Moll Op.65 - V. Allegretto
Personnel
Kurt Sanderling - Conductor
Berliner Sinfonia-Orchester
Produced by Heinz Wegner. Recording Engineer: Hartmut Kölbach.
Balance Engineer: Eberhard Richter. Edited by Lianne Klasen.
Recorded in September 1976 at Studio Christuskirche, Berlin.
Avex Japan # AVCL-25294
foobar2000 1.6.4 / Dynamic Range Meter 1.1.1

––––––––––––––––––––––––––––––––––––––––
Analyzed: Kurt Sanderling/Berliner Sinfonie-Orchester / Schostakowitsch:Sinfonie Nr.8 c-moll Op.65(1943)
––––––––––––––––––––––––––––––––––––––––

DR Peak RMS Duration Track
––––––––––––––––––––––––––––––––––––––––
DR15 -5.28 dB -26.86 dB 27:06 01-I.Adagio
DR14 -4.70 dB -24.55 dB 6:31 02-II.Allegretto
DR15 -4.58 dB -25.04 dB 6:47 03-III.Allegro non troppo
DR18 -5.94 dB -30.95 dB 10:32 04-IV.Largo
DR13 -4.31 dB -25.20 dB 15:29 05-V.Allegretto
––––––––––––––––––––––––––––––––––––––––

Number of tracks: 5
Official DR value: DR15

Samplerate: 2822400 Hz / PCM Samplerate: 176400 Hz
Channels: 2
Bits per sample: 1
Bitrate: 5645 kbps
Codec: DSD64


Thanks to KolyaFokhin!
Uncompressed SACD ISO size > 2,66 GB
>