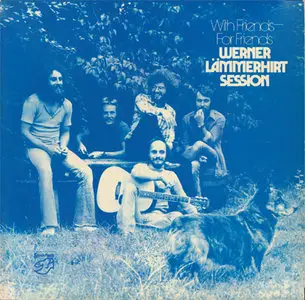 Werner Lämmerhirt - With Friends / For Friends
FLAC | Artwork | 24Bit 96kHz: 825 MB | 16Bit 44.1kHz: 238 MB
Cat#: Stockfisch SF 8001 | Country/Year: Germany 1975
Genre: Singer/Songwriter, Folk | Hoster: Filesonic/Uploaded
MD5 [X] FFP [] CUE [] LOG [] INFO TEXT [X] ARTWORK [X]
webfind [] selfrip [X]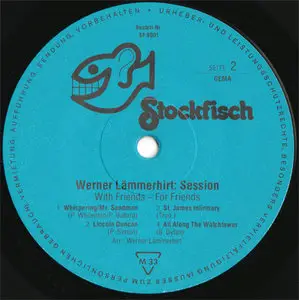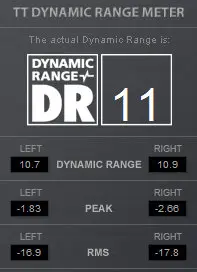 Info:
Werner Lämmerhirt – With Friends - For Friends
Label: Stockfisch Records
Catalog#: SF 8001
Format: Vinyl, LP, Album
Country: Germany
Released: 1975
Genre: Blues, Folk, World, & Country, Rock
Style: Folk
Tracklist:
A1 Long Way Back Home
A2 Nobody Wants You When You're Down And Out
A3 If I Were A Carpenter
A4 Alberta
B1 Whispering/Mr.Sandmann
B2 Lincoln Duncan
B3 St.James Infirmary
B4 All Along The Watchtower
Credits:
Bass, Vibes – Michael Erhard (tracks: A2-B4)
Drums – Lutz-Helge Meyer (tracks: A2, A3)
Engineer – Günter Pauler
Flute – Andreas Osterrieth (tracks: B2, B4)
Guitar – Klaus Weiland (tracks: A1-A3, B4), Sammy Vomácka (tracks: A2, B1,B3)
Guitar, Vocals – Werner Lämmerhirt
Discogs Url:
http://www.discogs.com/release/2765669
Werner Lämmerhirt (17 March 1949) is a noted German singer-songwriter and guitarist in the contemporary folk music style. He writes and sings in both German and English languages. His recording career has spanned more than three decades.
Lämmerhirt worked as a session musician at this time with artists such as Tom Paxton, Eddie and Finbar Furey and Alex Campbell.

In the winter of 1973-74 Lämmerhirt was approached with a proposal to record his first solo album on a new label, Stockfisch Records. This album, Ten Thousand Miles was successful, leading to further and larger live performances. Lämmerhirt began to write his own songs at this time, and his second solo album was released in 1975.

Stockfisch Records is a record label aimed at audiophile fans of guitar-oriented singer-songwriter music and was formed in 1974 by Günter Pauler. The two artists with which Stockfisch Records started out in 1974 were Werner Lämmerhirt and David Qualey. They as guitar-playing singer-songwriters set the tone for many of their kind to come. Over the years, however, other instrumentalists apart from guitarists signed to Stockfisch. wikipedia

=Hardware=
LP>
Shure M97xE>
Thorens TP 16 MK III Tonearm>
Thorens TD 126 MK III Turntable>
Handcrafted low capacitance custom cables, polyethylene insulated twinaxial conductors>
Kenwood C1 Custom Revision I>
- Phono Stage input and RIAA equalisation capacitors replaced by Styroflex and Polypropylen types resp.
- Electrolytic capacitors not mounted by manufacturer onto the RIAA stage power Supply refitted (Philips NOS types)
- All electrolytic capacitors in signal chain replaced by foil capacitors
- All old JRC OpAmps replaced by Burr Brown (Phono Stage) and Analog Devices OpAmps resp.>
Handcrafted low capacitance custom cables, polyethylene insulated twinaxial conductors>
Audiotrak Prodigy 7.1 HiFi w/ AD712 OpAmps @ 24/96>
HDD
=Software=
Adobe Audition 3.0
Trader´s Little Helper (FLAC)
+16Bit Version:
Weiss Saracon 01.61-27
Dither: POWr3

Date of rip: 2011-08-06
Please keep the info sheet included if you share this!


If you have problems extracting the RAR files on your HD, please verify these checksums. If they do not match, redownload the not-matching part and try again.

(copy & paste to your editor and save as *.md5 in the folder where the RAR files are located)

16Bit

c9e2198c95e455fcf3986ce633b75d35 *FHQA-WeLae-WiFrFoFr-16B.rar

24Bit

e4d4eff5c8a55d7e4a6d7ccbd00a3602 *FHQA-WeLae-WiFrFoFr-24B.part1.rar
f8447b95d97c28016253f5550126b438 *FHQA-WeLae-WiFrFoFr-24B.part2.rar
c70f3bcdda2d616a7509fa65a7ed45c3 *FHQA-WeLae-WiFrFoFr-24B.part3.rar
04c986da88f86e79ecddfa249ae3a26c *FHQA-WeLae-WiFrFoFr-24B.part4.rar