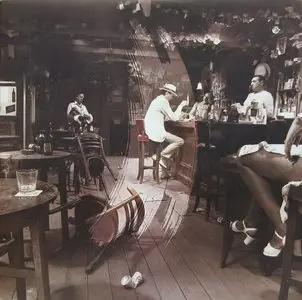 Led Zeppelin - In Through The Out Door
Vinyl rip in 24bit/192kHz | WavPack | image + cue | scans | 1.69 Gb
Filesonic and Hotfile | 1979
In Through the Out Door is the eighth studio album by the English rock band Led Zeppelin. It was recorded over a three week period in November and December 1978 at ABBA's Polar Studios in Stockholm, Sweden, and released by Swan Song Records on 15 August 1979. In Through the Out Door was the band's sixth and final release to reach the top of the charts in America, and was the last released by the band before the death of drummer John Bonham in 1980.
Tracklisting:
01 - In The Evening
02 - South Bound Saurez
03 - Fool In The Rain
04 - Hot Dog
05 - Carouselambra
06 - All My Love
07 - I'm Gonna Crawl
Personnel
John Bonham – drums
John Paul Jones – bass guitar, keyboards
Jimmy Page – acoustic and electric guitar, production
Robert Plant – vocals
Turntable: Thorens TD124 mkII + SME 3012 Series II
Cartridge: Van den Hul Colibri XGW
Analog to Digital Converter: E-MU 0404 USB
Capture software: WaveLab
Ripped by
Oleg39
.